I have been lucky enough to find amazing sites full of creative people, to help with my adventures in cooking. One such site is the Cooking for your Family board on
BabyCenter
.com. I have grown to admire these talented women, who day after day are on the same mission I am. Feeding th
eir
families healthy and nutritious meals without getting bored or
driving
themselves insane. This recipe for Apple Dumplings is a favorite among the wonderful ladies on Baby Center. Without them, I never would have found this recipe, that has become a regular breakfast treat in our household.
This time I only had 1 apple left, so I decided to make half the recipe using a fresh peach. It turned out pretty darn good. Although I must admit, the apple dumplings are much better,
LOL
. Although I found this recipe on Baby Center, it is a Pioneer Woman recipe, so the credit must go to her.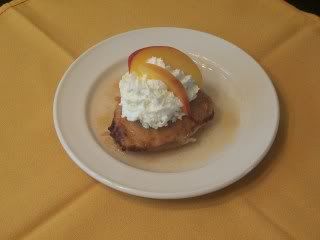 Pioneer Woman's Apple Dumplings
2 Granny Smith apples
2 cans crescent rolls
2 sticks butter
1 1/2 cups sugar
1 teaspoons vanilla
cinnamon
1 small can Mountain Dew (About 6 oz)
Peel and core apples. Cut apples into 8 slices each. Roll each apple slice in a crescent roll. Place in a 9 x 13 buttered pan. Melt butter, then add sugar and barely stir. Add vanilla, stir, and pour over apples. Pour Mountain Dew around the edges of the pan. Sprinkle with cinnamon and bake at 350 degrees for 40 minutes. Serve with ice cream/ whipped cream, and spoon some of the sweet sauces from the pan over the top.
Cindy's notes: I used a peeled peach cut into 8 sections. I also used Sierra Mist, soda, instead of the Mountain Dew. I like to serve this with a nice dollop of whipped cream.