They are there, waiting for me to open the door. The never ending pile of frozen ripe bananas. For some reason, our bananas seem to ripen faster than we can eat them lately. I'm sure it has nothing to do with the fact that I won't touch a banana, unless it still has a slight tinge of green to it. I don't know why, but fully yellow bananas gross me out. Anyway, that's a story for another time. As I was saying, I have a huge pile of ripe bananas in the freezer. I've been making banana bread for months now, and to be honest, I'm getting sick of it. So I scoured the online recipe sites and found a recipe for Banana Cake Cookies. These are ridiculously good cookies. The are soft and chewy and the cloves gives it an extra little hint of something. It's like "Hmmm, I don't know what that is, but it sure tastes good". Mister B loves bananas and cookies, so I knew these would be a hit with him. I'm almost embarrassed to say, I ate about a half dozen, the day I made them and about another 5-6 yesterday. Instead of frosting them, I drizzled them with frosting and dark chocolate. It adds just the perfect amount of sweetness, without it being too sweet.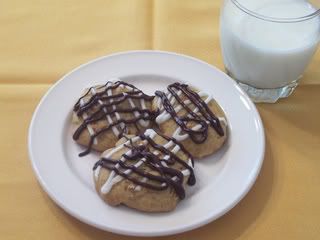 Banana Cake Cookies
Found on Allrecipes.com
Submitted by: Robin J.
1/2 cup shortening
1 cup packed brown sugar
2 eggs
1 cup mashed bananas
2 cups all-purpose flour
2 teaspoons baking powder
1/2 teaspoon baking soda
1/2 teaspoon salt
1/2 teaspoon ground cloves
1/2 cup chopped pecans
3 cups sifted confectioners' sugar
1 tablespoon butter, melted
3/4 teaspoon vanilla extract
3 tablespoons milk
Preheat oven to 350 degrees F (180 degrees C). Cream shortening; add brown sugar, beating well. Add eggs and banana; beat well. Sift together flour, baking powder, baking soda, salt, and spices. Add to creamed mixture; mix well. Stir in pecans. Drop dough by rounded tablespoonfuls, 2 inches apart onto greased cookies sheets. Bake for 12 minutes. Remove to wire racks to cool. Dip half of cooled cookies into Powdered Sugar Icing. To Make Icing: Combine 3 cups confectioner's sugar, 1 tablespoon melted butter or margarine, and 3/4 teaspoon vanilla extract. Add milk to yield desired consistency (you may need to add a little extra), beating until smooth.