It's 4:45 and here I was thinking, "what the heck am I going to make for dinner?". This has been an on going question for months now. Giving birth to my second precious child has turned me into quite a food snob. All I want and crave is fast food, so deciding what to make for dinner, has become a challenge. So while browsing my many favorite websites for inspiration, I came about the meal plan on the Family Fun Magazine website. There it was, in all it's glory, the recipe for Pork Pizzaiola. Pork and Pizza, what could be better right? I quickly thawed some chops in the microwave and assembled my ingredients. Queenie McBeanie would be waking up any minute now, so I had to act fast. Side dish, I need a side dish!!! I remembered seeing a recipe for Creamy Orzo of some sort on the cooking board I frequent on Babycenter.com. Drat, I'm short on red peppers, but I'll improvise. So the mission began. To make dinner, for Mister B and I while entertaining and feeding the Queen. No problem right???
To my tremendous pleasure, dinner turned out great! The pork was tender and moist, the Orzo rich and creamy. A success!!! How do I know for sure? My husband gladly ate the leftovers when he came home from work. A miracle in the least, LOL.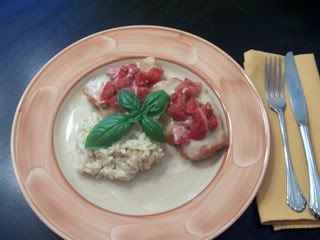 Pork Pizzaiola
Simmered in spicy pizza sauce, pork chops or tenderloin slices make a quick and easy supper. The key is to not overcook the meat, so it stays nice and tender. Serve it with a green vegetable and Italian bread or breadsticks to complete your meal.
2 tablespoons olive oil
4 boneless pork chops or 1 large pork tenderloin (about 1 1/2 pounds), cut on the diagonal into 1-inch-thick slices
Salt and pepper to taste
2 tablespoons minced garlic
2 cups canned chopped tomatoes with onion and green pepper, their juice
1 teaspoon dried oregano
Pinch of crushed red pepper(optional)
Pinch of salt
4 slices mozzarella (about 2 ounces)
Heat the oil in a large skillet set over medium-high heat. Rinse the pork chops or tenderloin slices and pat them dry with paper towels. Place them in the pan to cook, turning them once, until they are nicely browned on both sides (about 10 minutes for chops, 6 minutes for tenderloin slices). Transfer them to a plate and sprinkle them with salt and pepper.
Lower the heat to medium and add the garlic to the pan, cooking it until it is fragrant (about 30 to 45 seconds). Add the tomatoes, oregano, crushed red pepper, and pinch of salt. Bring the mixture to a simmer and let it cook for 15 minutes to thicken it slightly.
Return the pork to the pan to cook through, about 8 to 10 minutes for chops or 5 to 7 minutes for tenderloin slices (if you pierce them with a fork, the juice should run clear).
Place the mozzarella slices on top of the meat, then cover the pan and remove it from the heat. Let it stand for a minute or so for the cheese to melt. Serves 4 to 6.
Creamy Orzo
1 cup dried orzo pasta
½ tbsp butter
1 tbsp extra virgin olive oil
1 small white onion, diced
2 cloves garlic, minced
Kosher salt and freshly ground black pepper
2-3 wedges garlic and herb Laughing Cow cheese, chunked
Parmesan cheese
a splash of milk
In a large pot of salted boiling water, cook orzo according to package directions. Meanwhile, in a medium sauté pan, heat butter and olive oil together. Sauté onion, until it develops a dark golden brown color, about 10-15 minutes. Add wedges of cheese, milk and season with salt and pepper. Cook and stir until cheese has melted, then add pasta and toss to coat. Top with parsley and freshly grated Parmesan cheese.