Most days when I'm in the kitchen, Mr.B strolls in and asks if he can help. Most days I'm frazzled, making a last minute dinner, with the Queen either just waking up, needing to eat or crabby. So most days the answer is no. Lets face it, I'm a major control freak and don't deal well, when things don't go as
I
think they should. You'd think with children I'd learn to let that go, but that's something to talk to a therapist about, LOL.
Today was rainy day number 2, so I decided to bake something comforting. I had seen Sandra Lee make up a batch of Peanut Butter Oatmeal Bars, on her show yesterday ( Semi Homemade with Sandra Lee), so I looked the recipe up on line. It looked good and super simple, so I printed it out and asked Mr.B if he'd like to help. He was beyond excited!! All went well, despite flour flying everywhere, and having to fish egg shells out of the bowl, due to Mr.B getting a little rough with the egg. We had fun, I measured, he poured. He stirred when he could and licked spoons, spatulas and measuring cups when he couldn't. All in all we had a good time. I'd like him to remember these times, when he gets older, because I love the memories I have of my Mom and I in the kitchen.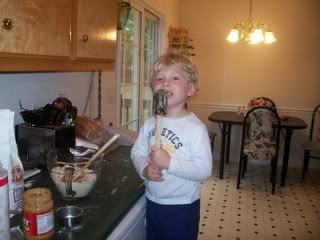 The bars turned out OK. I'm not too crazy about them. They're not gross, just not what I thought they'd taste like. Maybe it's the cinnamon from the apple sauce, I don't know. Regardless, the quality time I spent with my sweet Mr.B, makes up for a not so stellar outcome of our work.
Peanut Butter Oatmeal Bars

3/4C baking mix (such as Bisquick)
2 C quick cooking oats
1/2 C smooth peanut butter
1/2 C cinnamon flavored apple sauce
1/2 C raisins
1/2 C chocolate chips
1 egg
1/3 C honey
Preheat oven to 350 degrees. Spray an 8x8 inch pan, with cooking spray. Mix baking mix and oats until well combined. Add other ingredients and mix thoroughly. Press into prepared baking dish and bake for 20-25 minutes. Cool and cut into 16 squares.