With Labor Day just around the corner, I'd like to share one of my most requested recipes. Two years ago, the wonderful Mommy group I belong to, decided to have a Labor Day picnic. We had another, last year as well. Which is when my pasta salad made it's debut. I've been making this for hubby and I, since we met. It never lasts long in this house, so I knew hubby enjoys it. I had, however, never brought it to any social gathering. I'm always the one who brings dessert, to a gathering, but since a fellow Mommy had claimed desserts, I decided to bring pasta salad. I wasn't sure if it had went over well, with everyone, since we were so busy chasing the kids around, to discuss much of anything. A few days later, one of my girlfriends requested the recipe, saying she really enjoyed it. Since then I think I've brought pasta salad to her house 3 or so times. Every time she tells me how much she and her husband love it. Even her children love it, which I think is the biggest compliment. I've recently been asked for the recipe, by a few others, so I think I've got a hit on my hands, LOL.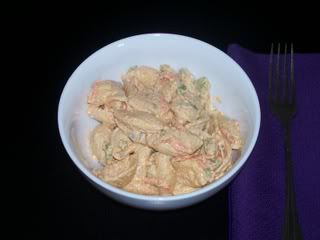 Pasta Salad
Lately, I've been using Roasted Red Pepper, but good ole green or red peppers are just as good.
1 box cooked pasta ( use your favorite)
4 green onions, finely sliced
1 green or red pepper, diced
3 stalks celery, diced
2 carrots, shredded
2 cups mayonaise , more if too dry
salt and pepper to taste
1 tsp Lawry's season salt
1/2 tsp paprika
2 Tbs dry parsley
Cook pastain a large pot of salted water. Once cooked, rinse under cold water, to stop the cooking process. Drain well and let cool completely in fridge ( it should be kinda dry). Throw everything into a huge bowl and mix together. Refrigerate at least 2 hrs before serving, so all the flavors can meld. Taste again, to make sure seasoning is ok.