On my Baby Center cooking board, we've decided to start a Meal of the Week, type game. One member posts a few recipes and we can choose to make all of them or just 1. This week there was a chicken and mushroom recipe and a fried rice recipe. We were out of mushrooms, so I'll try that recipe another time. I had all ingredients for the fried rice, so I gave it a whirl. It turned out really great. It actually tasted pretty close to something you'd find on the Chinese buffet. It's a really great base recipe and adding a protein to it, can turn it into a complete meal.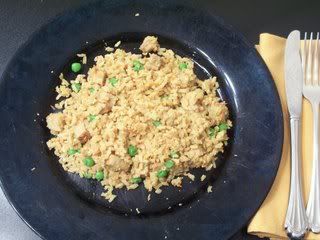 Benihana Japanese Fried Rice

1 cup uncooked long grain converted or parboiled rice (not instant or quick white rice)
2 eggs, beaten1 cup frozen peas, thawed
2 tablespoons finely grated carrot
1/2 cup diced onion (1/2 small onion)
1 1/2 tablespoons butter2 tablespoons soy sauce
salt
pepper

1. Cook the rice following instructions on the package. This should take about 20 minutes. Pour the rice into a large bowl to let it cool.

2. Scramble the eggs in a small pan over medium heat. Chop scrambled chunks of egg into small pea-sized bits with your spatula while cooking.

3. When the rice has cooled, add the peas, carrot, eggs and onion to the bowl. Carefully toss all of the ingredients together.

4. Melt the butter in a large frying pan over med/high heat.

5. When the butter has completely melted, dump the rice mixture into the pan and add the soy sauce plus a dash of salt and pepper. Cook the rice mixture for 6-8 minutes, stirring often.

Tidbits: This fried rice can be prepared ahead of time by cooking the rice, then adding the peas, carrot, onion, and scrambled egg plus half of the soy sauce. Keep this refrigerated until you are ready to fry in the butter. That's when you add the salt, pepper and remaining soy sauce.
Cindy's notes: I added some leftover chopped, pork loin chops to ours, to make it a complete meal. I also used Minute Rice, since I'm impatient. I added the beaten raw eggs at the end, since I hate big chunks of egg in my fried rice. Salad shrimp, chicken and pork would all be great additions.