Well, the kids and I have all caught colds. Today is the first day I've been feeling better. Nothing is better than a nice bowl of soup and homemade bread to chase those sniffles away. A few nights ago, I came up with a recipe for
Potato and Corn soup
. Of course soup without nice fresh bread is just not right, so I tried my girlfriend Christine's recipe for
Amish White Bread
. She posted it on our cooking board, on Baby Center and it got great reviews. I was a little hesitant, since I've only made bread using the bread machine, either to make the whole thing, or at least the dough. So I had no clue about proofing yeast and how long to knead the dough, etc. I decided to give it a try and other than the bread sticking to the pan ( my bad, I oiled, when I should have greased) it turned out wonderfully. The bread was fluffy and oh so delicious. It reminded me a lot of the homemade bread my Mom makes, so that's a bonus.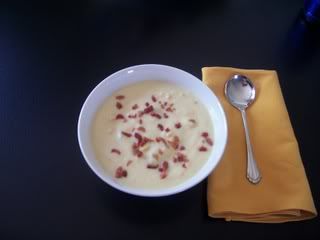 Potato and Corn soup

6 med potatoes
1 small onion, chopped
2 Tbs butter
1 Tbs olive oil
1 can (12oz) evaporated milk
1 C chicken stock or broth
1 can of cream corn
6 slices bacon, cooked crisp
salt and pepper

Peel potatoes. Take 4 of the potatoes and cube them. Place in a small pot of salted water and bring to a boil. Boil until fork tender. Once potatoes are cooked, drain and mash with butter and milk. Set aside. In a med soup pot, melt butter into olive oil, over med heat. Add onion and cook until onion is tender and looks clear. Add the remaining 2 potatoes that you have cubed, and season with salt and pepper. Cook for 2-3 minutes more, stirring occasionally. Add the can of evaporated milk and chicken stock. Bring up to a simmer and simmer for 45 minutes to 1 hr. Add mashed potatoes, corn and bacon. Whisk to incorporate potatoes and make soup smooth. Taste for seasonings and adjust to preference.


Amish White Bread
Christine
2 cups warm water (110 degrees F/45 degrees C)
2/3 cup white sugar
1 1/2 tablespoons active dry yeast
1 1/2 teaspoons salt
1/4 cup vegetable oil
6 cups bread flour
DIRECTIONS

In a large bowl, dissolve the sugar in warm water, and then stir in yeast. Allow to proof until yeast resembles a creamy foam.Mix salt and oil into the yeast. Mix in flour one cup at a time. Knead dough on a lightly floured surface until smooth. Place in a well oiled bowl, and turn dough to coat. Cover with a damp cloth. Allow to rise until doubled in bulk, about 1 hour.Punch dough down. Knead for a few minutes, and divide in half. Shape into loaves, and place into two well oiled 9x5 inch loaf pans. Allow to rise for 30 minutes, or until dough has risen 1 inch above pans. (I use egg wash before baking)Bake at 350 degrees F (175 degrees C) for 30 minutes.