The cooler temperatures have arrived and soon Halloween and Thanksgiving will be upon us. I love this time of year. The smell of a crisp autumn day, and the warmth accompanied by the smell of cinnamon and nutmeg.
One of the recipes for the Meal of the Week, from my Baby Center cooking group, was
Apple Pumpkin Muffins
. I don't really cook with pumpkin much, except for the occasional pie or cake, so I figured I'd give it a try. These muffins are so moist and delicious. A bit sweet, but I love sweet, LOL. Some of the ladies suggested cutting down on the sugar and substituting, half of it, for brown sugar. I think I will try that next time. I used sweet Fugi apples, since that is what we had in the crisper. I think it pairs perfectly with the pumpkin. I'm thinking of making these for a girls night, I will be attending in a few weeks.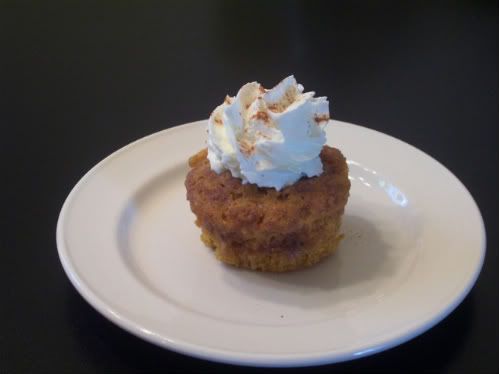 Apple Pumpkin Muffins


2 1/2 cups all-purpose flour
2 cups sugar
1 tablespoon pumpkin pie spice
1 teaspoon baking soda
1/2 teaspoon salt
2 eggs
1 cup canned or cooked pumpkin
1/2 cup vegetable oil
2 cups finely chopped peeled apples

STREUSEL:
1/4 cup sugar
2 tablespoons all-purpose flour
1/2 teaspoon ground cinnamon
4 teaspoons cold butter or margarine

1. In a bowl, combine the first five ingredients. In another bowl, combine the eggs, pumpkin and oil; stir into dry ingredients just until moistened. Fold in apples. Fill paper-lined muffin cups two-thirds full. In a small bowl, combine sugar, flour and cinnamon. Cut in butter until crumbly. Sprinkle over batter.
2. Bake at 350 degrees for 35-40 minutes or until golden brown. Cool for 5 minutes before removing from pans to wire racks.