Well, we finally got to the Orchard, like I had been hoping we would. Actually it was more of a pumpkin patch, than orchard, but we did manage to get apples. So with all these apples sitting around, I was in search of a recipe that would use up quite a few. I lucked out when someone reviewed an
Apple Cake
recipe, on my Baby Center cooking board. Once again I have to thank those wonderful ladies!! It called for 6 cups of apples, so I decided to give it a try. It is quite a delicious cake. The frosting itself is dangerously good. Mr.B has been inhaling any piece left unattended and my mother in law has made a pretty good dent in the cake as well, LOL. I made a bundt cake, instead of using my 9x11 inch pan. It's a bit more dense, then I think it's suppose to be, since I had to add milk, due to not having enough shortening. The batter is suppose to be thick, so don't be alarmed.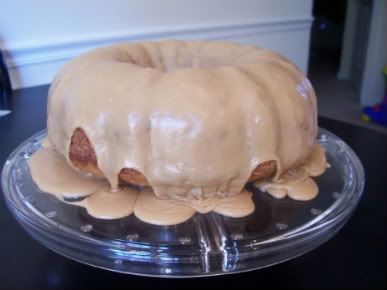 Apple Cake
½ c shortening
2 c sugar2 eggs
3 c flour
2 tsp baking soda
1 tsp salt
1 tsp nutmeg
1 tsp cinnamon
6 c raw apples
Cream shortening and sugar together. Add eggs. Stir together dry ingredients. Add to creamed mixture and mix well. Stir in apples. Pour into a greased 9 x 13 pan. Bake at 350 F for 45 minutes. Frost cake while warm.
Caramel Frosting
½ c butter
1 c brown sugar
¼ c milk2
½ c powdered sugar
1 tsp vanilla
In a pan, combine butter and brown sugar. Bring to a boil, stirring occasionally. Boil over medium heat for 2 minutes. Add milk. Bring to a boil. Remove from heat. Gradually beat in powdered sugar. Stir in vanilla. Frost warm cake.
Cindy's note's
~ I cut the nutmeg in half and reduced the sugar by half a cup.