I found this recipe in Reader's Digest about 6 years ago. It's one of my go to meals, when I'm not sure what to make for dinner. It's super easy to make and I think it's really delicious. Think of Chicken Stroganoff. Creamy and tangy, due to the sour cream. Mr.B loves it since it has all his favorites in it, chicken, noodles and broccoli.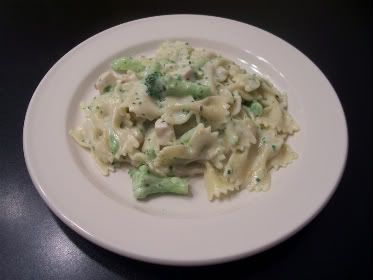 Creamy Chicken with Broccoli and Noodles
1 Tbs vegetable oil
2 boneless, skinless chicken breast, cut into cubes
1/4 tsp thyme
1 tsp salt
pepper
2/3 C chicken broth
2 C egg noodles ( or bow tie pasta)
2 C broccoli, chopped
1/2 C sour cream
In a large skillet, Cook chicken in oil, with thyme, until golden. Remove and sprinkle flour, salt and pepper into pan and cook for 1 minute. Slowly whisk in broth and bring to a boil. Simmer for 2 minutes, until mixture thickens slightly. In a large pot of salted water, cook pasta, adding broccoli in half way through cooking process. Drain, reserving 1/2C of pasta water. Return to pot, add sauce, chicken and sour cream. Toss to coat; adding pasta water if too dry.