These are 2 recipes from the Meal of the Week on Baby Center's Cooking for your Family. I knew we'd love the chicken and since I had never tried parsnips, I was excited to try the vegetables. The chicken was delicious. Now I'm notorious for over cooking meat. I grew up with a woman who killed meat. So I was very pleased when I cooked my chicken perfectly, last night. It was nice and golden and so juicy. I loved the saltiness of the Parmesan and the slight tang from the Dijon mustard. DS ate the chicken, but I think if I would have offered him something else, he would have left the chicken there, without looking back, LOL. The vegetables were a different story. I'm not sure if it was the unfamiliarness of the parsnips, or the strong taste of the reduced apple juice, but I was not a fan of the veggies. Mr.B took one bite, made a horrible face and refused to eat more, LOL. I had added a few Tbs of brown sugar, in hopes of it helping, but the vegetables on their own were just not so great. Now if you ate the chicken and vegetables at the same time, it wasn't so bad, LOL.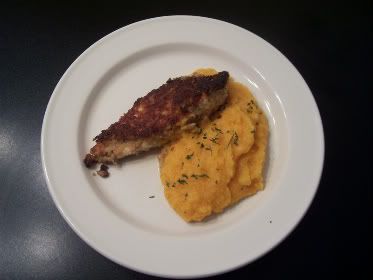 Dijon Crusted Chicken Breasts
1/3 cup dry bread crumbs
1 tablespoon grated Parmesan cheese
1 teaspoon Italian seasoning
1/2 teaspoon dried thyme
1/4 teaspoon salt
1/4 teaspoon pepper
4 boneless skinless chicken breast halves (4 ounces each)
2 tablespoons Dijon mustard
1 teaspoon olive oil
1 teaspoon reduced-fat margarine
Place the first six ingredients in a shallow bowl. Brush chicken with mustard; roll in crumb mixture.
In a large skillet, cook chicken in oil and margarine over medium heat for 5-6 minutes on each side or until juices run clear.
Whipped Autumn Vegetables
2 pounds sweet potatoes, peeled and cubed (about 3 large)
3 medium parsnips, peeled and sliced
1/2 cup chopped dried apricots
1 cup apple cider or unsweetened apple juice
2 tablespoons butter, melted
1/2 teaspoon salt
1/8 teaspoon pepper
Place the sweet potatoes, parsnips and apricots in a large saucepan; cover with water. Bring to a boil. Reduce heat; cover and cook for 10-15 minutes or until vegetables are tender.
Meanwhile, in a small saucepan, bring apple cider to a boil; cook until reduced to 1/4 cup.
Drain vegetable mixture; cool slightly. Transfer to a food processor. Add the butter, salt, pepper and reduced cider. Cover and process for 1-2 minutes or until blended.