Last night was the fist night in about a week, that Hubby was home for dinner. He had been working so hard, that I decided to make him something a bit fancier than our usual fare. My Baby Center cooking group had a great stuffed chicken recipe as one of the Meals of the Week, so I gave it a try. It turned out really pretty and Hubby had 2 helpings. Mr.B wasn't to thrilled about the stuffing and sauce, but he ate the chicken, LOL. I was a bit put off by the amount of poultry seasoning called for, since I'm not a fan of sage. Next time I will use less, and believe me, there will be a next time. This would be a great meal to entertain with. It is not difficult at all. I made some changes, since I used ingredients I had on hand and will include the changes at the end of the recipe.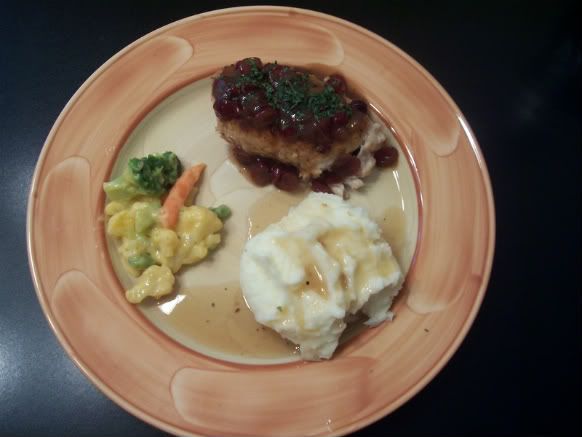 Apple Bacon Stuffed Chicken Breasts(via Southern Living)


2 bacon slices, diced
1/2 cup peeled, chopped Granny Smith apple
1/2 cup dried cranberries, divided
1 tablespoon fine, dry breadcrumbs
1/2 teaspoon poultry seasoning
1/2 teaspoon ground cinnamon
4 skinned and boned chicken breast halves
2 tablespoons butter or margarine
1 cup apple juice
2 tablespoons apple brandy or apple juice
1/4 teaspoon salt
2 teaspoons cornstarch
1 tablespoon water
1/4 cup coarsely chopped pecans
2 tablespoons chopped fresh parsley

Cook bacon in a large skillet over medium heat until crisp; remove bacon, reserving 1 tablespoon drippings in skillet.
Sauté chopped apple in reserved drippings over medium-high heat 4 minutes. Remove from heat; stir in bacon, 1/4 cup cranberries, and next 3 ingredients.
Cut a 3 1/2-inch-long horizontal slit through the thickest portion of each chicken breast, cutting to, but not through, other side, forming a pocket. Stuff apple mixture evenly into each pocket. Wipe skillet clean.
Melt butter in skillet over medium heat. Add chicken, and cook 8 to 10 minutes on each side or until done. Remove chicken, and keep warm.
Add remaining 1/4 cup cranberries, apple juice, apple brandy, and salt to skillet. Stir together cornstarch and 1 tablespoon water until smooth; stir into juice mixture, and cook, stirring constantly, 1 minute or until thickened. Spoon over chicken, and sprinkle with pecans and parsley.
My changes:
-used chicken cutlets, instead of breasts. I spooned some filling on the widest past of the cutlet and rolled it up. Fried seam side down fist and voila!
-used Fugi apple instead of Granny Smith
-used Cherry flavored Craisins, instead of plain
-used less cinnamon
-used half chicken stock for gravy
-added a tiny bit of grated onion ( used my micro plane) when sauteing the apples
-I also used real bacon bits, instead of bacon and omitted the pecans, since we were out.