I needed to use up 1 C of pumpkin, so I searched Cooks.com for a recipe for cookies. I found
Great Pumpkin Cookies
. They sounded very good, but I was skeptical about the amount of oil they were calling for. I had the bright idea of substituting the oil with apple sauce. That was I didn't feel so guilty. BIG mistake. The cookies turned out rubbery, not my idea of a good cookie. Mr.B likes them, so I guess it wasn't a total loss. I will try these again, using butter instead of oil, to see it they are better.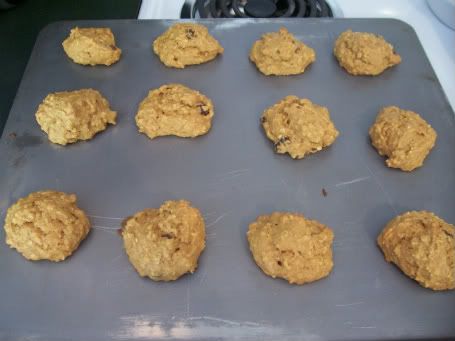 GREAT PUMPKIN COOKIES

4 cups unsifted flour
2 cups oatmeal
2 teaspoons baking soda
2 teaspoons cinnamon
1 teaspoon salt
1 1/2 cups oil
1/2 cup white sugar
2 cups brown sugar
1 egg1 teaspoon vanilla
1 1/2 cups canned pumpkin
1/2 cup nuts
1/2 cup raisins

Combine flour, oatmeal, spices, and salt. Set aside.Cream oil, sugars, egg and vanilla on medium speed of mixer for 2 minutes. Add 1/4 cup Libby's canned pumpkin and mix 1 minute more. Add the remaining flour and pumpkin alternately. Stir in nuts and raisins.

Drop by rounded teaspoonfuls onto lightly greased sheet baking sheets. Bake at 350F for 15-20 minutes or until firm and lightly browned.

Makes about 5 dozen cookies.

Unbaked dough can be frozen in air tight container. Thaw in refrigerator and bake as directed.


Cindy's notes: I halved the recipe, and decreased the brown sugar to 1 C. The cookies are still plenty sweet, due to the raisins.