It's not what you think, LOL. I was suppose to go to my girlfriend's house this past Friday, but our sitter stood me up. I had made
Knock you Naked Brownies
, for the occasion. Once again this is a CFYF find on Baby Center and I can't thank these ladies enough!! Just reading the recipe I knew these would be sinful. I never thought I'd be fantasizing about these brownies night and day. It takes all my will power, to not eat one for breakfast. Hubby finally tasted them last night and suggested I make these, at least once a week. They must be good for him to suggest that, since he isn't a big dessert eater. These can rival any store bought brownie and win!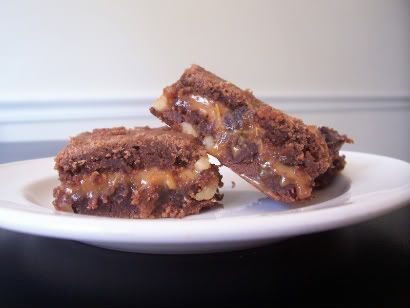 Knock You Naked Brownies
1 box German chocolate cake mix
1 cup chopped nuts
1/3 cup evaporated milk
1/2 cup evaporated milk
1/2 cup butter, melted
1 pkg. (14 oz.) vanilla caramels, unwrapped
1 cup semi-sweet chocolate chips
In a large mixing bowl, combine dry cake mix, nuts, 1/3 cup evaporated milk and melted butter. Press half of the batter into the bottom of a greased 13x9x2-inch glass baking dish. Bake in a preheated 350°F oven for 8 minutes. In the microwave or top of a double boiler melt caramels with remaining 1/2 cup evaporated milk. When caramel mixture is well mixed, pour overbaked layer. Cover with chocolate chips. Spoon remaining batter on top of morsels. Return to oven and bake 18 minutes (or less for gooier brownies). Let cool before cutting.