For Christmas last year, I asked for a waffle iron, since I was feeling a bit guilty about feeding Mr.B so many frozen waffles. I'm trying to be more aware of what my family is eating and find it is very easy to do, if I make a lot of things from scratch. So I got my waffle iron and use it on average once a week. Mr.B loves waffles and pancakes, so it is a win win situation. I feel better about knowing exactly what is in our waffles and Mr.B gets to have one of his favorite breakfasts. He really loves when I make a fruit compote to pour onto of the waffle with real fresh whipped cream.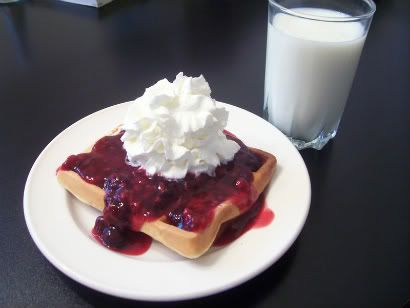 Homemade Waffles with Citrus Scented Berry Compote
4 Tbs butter, melted
2 eggs
1 3/4C milk
3 Tbs sugar
2 C flour
3 tsp baking powder
1/2 tsp salt
1 C frozen mixed berries
2 Tbs sugar
1 tsp orange zest
juice from 1 orange
1 tsp cornstarch, mixed with 1 Tbs water
Preheat waffle iron. Mix together the eggs and sugar, adding the melted butter and mixing well. Add dry ingredients and milk. Whisk well, to ensure no lumps.
Meanwhile in a small sauce pan, combine berries, sugar and orange juice, over medium heat. Cook until the mixture comes to a boil. Add in orange zest. Add a bit of cornstarch and water mixture, until berries come to desired thickness. Cook 1 minute longer.
Pour batter from cup or pitcher onto center of hot waffle iron. Bake until steaming stops, about 5 minutes. Remove waffle carefully. Top with Berry Compote and a dollop of real whipped cream.