Last night's dinner was superb! I received 2 thumbs up, all around. I think if Hubby could have given 4 thumbs up, he would have, LOL. Once again, I can't take credit for these recipes. They are courtesy of the wonderful women on Baby Center's CFYF board. Our menu consisted of
Alfredo Ravioli Bake
and
Soft Italian Bread Sticks
. Hubby raved about both dishes, even asking if I had made the bread from scratch. For some reason I overlooked the chicken in the recipe and since all my chicken was frozen, I omitted it. When I informed DH about this fact, he said it was a great mistake and it was perfect the way it was. The Ravioli was rich and creamy and the bread light and fluffy. A great comforting and filling pasta dinner.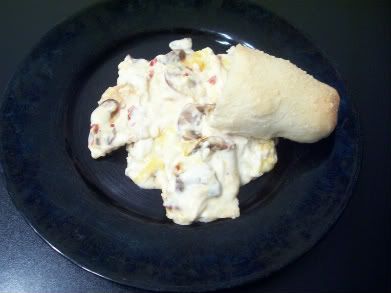 Alfredo Ravioli Bake
2 tablespoons butter
1 1/4 pounds boneless skinless chicken breast halves, cut into 1-inch pieces
1 (8-ounce) package sliced fresh mushrooms
1 (16-ounce) jar Alfredo sauce
1 (25 to 27 1/2-ounce) package frozen spinach and cheese filled ravioli
1 large (1 cup) red bell pepper, chopped
8 ounces (2 cups) mozzarella cheese, shredded
1/4 cup shredded Parmesan cheese
Heat oven to 350°F. Melt butter in 12-inch skillet until sizzling; add chicken pieces. Cook over medium-high heat until chicken is lightly browned (4 to 6 minutes). Add mushrooms; continue cooking until chicken is no longer pink and mushrooms are tender (4 to 6 minutes). Do not drain.
Spread 1/2 cup sauce into greased 13x9-inch baking dish. Arrange single layer of frozen ravioli over sauce; drizzle 3/4 cup sauce evenly over ravioli. Spread with 1 1/2 cups chicken and mushroom mixture, 1/2 cup red bell pepper and 1 cup mozzarella cheese. Repeat with remaining ingredients, except remaining 1 cup mozzarella cheese and Parmesan cheese. Cover tightly with aluminum foil. Bake for 45 minutes.
Remove foil; sprinkle with remaining mozzarella and Parmesan cheese. Bake, uncovered, for 15 to 20 minutes or until cheeses are melted. Let stand 15 minutes before serving.
Cindy's notes:
I omitted the chicken and used a cheddar jack cheese, since we had no mozzarella. Hubby suggested bacon next time, which I think would be a great addition.
Soft Italian Bread sticks
1 c warm water
3 T soft butter
1 1/2 tsp salt
3 c bread flour
2 T sugar1 tsp Italian seasoning
1 tsp garlic powder
2 1/4 tsp active dry yeast
Topping:
1 T melted butter
1 T grated Parmesan cheese
Place all dough ingredients in bread machine pan according to manufacturers directions. Select dough setting. When dough cycle is complete, turn out onto floured board and divide dough in half. Cut each portion into 12 pieces and roll each piece into a 4 to 6" rope. Place 2" apart on greased baking sheets. Cover and let rise in a warm place for about 20 minutes or until doubled. Bake at 350 F for 15 minutes or until golden brown. Immediately brush with butter and sprinkle with Parmesan cheese. Notes: Be careful not to over bake or they will become tough. Freeze any extras. Place closer together for "pull-apart" bread sticks. Dough can also be baked as loaves of bread.
Cindy's notes:
I omitted the Italian seasoning and decreased the garlic powder to 1/2 a tsp. I also brushed them with melted butter and sprinkled Parmesan before baking. Once out of the oven, I brushed them again with melted butter.