I've really been in the mood for soup, lately. I'm not sure why, since it's still 80+ degrees here. So I came upon a recipe for Broccoli, White bean and Cheddar Soup, in my email news letter from Eatingwell.com. I only read the ingredients and not the instructions, so didn't know it was a pureed soup. I waited until 5:30 to start making the soup, so puree or not, there was no turning back, LOL. I was apprehensive about Mr.B eating this soup, but thought I'd let him try it, since he loves broccoli cheese soup and beans. After pureeing it and seeing that the soup now had a nice tinge of green, I was even more worried. I let him taste it and he said it was very "YUMMY", so I was very pleased. He ate his whole serving, which is very rare now a days. This soup is delicious! The tanginess of the cheese and the creaminess of the beans make you feel like you are eating an indulgent cream soup. I froze the rest, certain that DH would turn his nose up at it, LOL.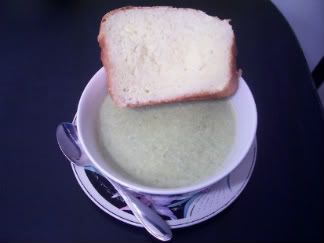 Broccoli, White Bean & Cheddar Soup
Makes 6 servings, scant 1 cup each
1 14-ounce can reduced-sodium chicken broth or vegetable broth
1 cup water
1 pound broccoli crowns, trimmed and chopped (about 6 cups)
1 14-ounce can cannellini beans, rinsed
¼ teaspoon salt
¼ teaspoon ground white pepper
1 cup shredded extra-sharp Cheddar cheese
1. Bring broth and water to a boil in a medium saucepan over high heat. Add broccoli, cover and continue cooking until tender, about 8 minutes. Stir in beans, salt and pepper and continue cooking until the beans are heated through, about 1 minute. 2. Transfer half the mixture to a blender with half the cheese and puree. (Use caution when pureeing hot liquids.) Transfer to a bowl. Repeat with the remaining broccoli mixture and cheese. Serve warm.
Nutrition Information
Per serving: 153 calories; 7 g fat (4 g sat, 0 g mono); 21 mg cholesterol; 15 g carbohydrate; 11 g protein; 6 g fiber; 437 mg sodium; 435 mg potassium. Nutrition bonus: Vitamin C (94% daily value), Vitamin A (25% dv), Calcium (21% dv).1/2 Carbohydrate ServingExchanges: 1 starch, 1 vegetable, 1 1/2 lean meat