Well, you know that one of my favorite blogs to follow is Crockpot 365. It's become quite popular among the women on Baby Center's CFYF board. A few weeks ago, one of the girls reviewed this recipe. I immediately copied it, since I was sure it would be a winner with Mr.B. I made it last night, using chicken breast, instead of thighs. The chicken was wonderful! Sweet, tangy, garlicky and oh so tender. I served it with white rice, as suggested. I also took Rachel's advice, from BBC; and sauteed some green beans with a bit of the broth, from the chicken. Mr.B loved it. He even ate all his rice, which is a very rare occurrence for him, LOL. I plan on using the leftover chicken in a stir fry or lo mein. Thanks to Stephanie from crockpot365.blogspot !!!!
Brown sugar chicken
crockpot 365 blog
--12 boneless, skinless chicken thighs, or 6 boneless, skinless breast halves
--1 cup brown sugar (it's okay. you can brush your teeth after.)
--1/4 cup lemon-lime soda (stay with me...)
--2/3 cup vinegar (I used white wine, but think regular white would be fine)
--3 cloves smashed and chopped garlic
--2 T soy sauce (La Choy and Tamari wheat free are GF)
--1 tsp ground black pepper
The Directions.

Use a 5-6 quart crockpot for this recipe.
Plop the chicken into your crockpot. Cover with the brown sugar, pepper, chopped garlic, and soy sauce. Add the vinegar, and pour in the soda. It will bubble!
Cover and cook on low for 6-9 hours, or on high for 4-5. The chicken is done when it is cooked through and has reached desired consistency. The longer you cook it, the more tender it will be.
Serve over a bowl of white rice with a ladle full of the broth.
Cindy's notes
: I sauteed some fresh green beans with a laddle full of the broth, which coated the beans with an amazing sweet and garlicky glaze.
~~~~~~~~~~~~~~~~~~~~~~~~~~~~~~~~~~~~~~~~~~~~~~~~~~~~~~~~~
Last night I also made Banana Crumb Muffins, for breakfast this morning. As you know from a previous post, I have a never ending pile of bananas in my freezer, so I was anxious to try these muffins. Once again, this recipe comes from one of the great ladies on Baby Center. The muffins are moist and the crumb topping adds just the right amount of sweetness. The cinnamon adds a little warmth to the muffin. Definitely in my banana recipe repertoire.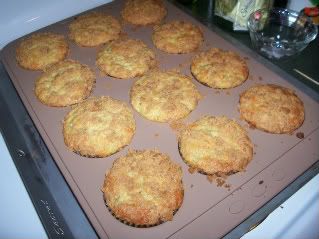 Banana Crumb Muffins
Rachel via allrecipes
1 1/2 cups all-purpose flour
1 teaspoon baking soda
1 teaspoon baking powder
1/2 teaspoon salt
3 bananas, mashed
3/4 cup white sugar
1 egg, lightly beaten
1/3 cup butter, melted
1/3 cup packed brown sugar
2 tablespoons all-purpose flour
1/8 teaspoon ground cinnamon
1 tablespoon butter DIRECTIONS
Preheat oven to 375 degrees F (190 degrees C). Lightly grease 10 muffin cups, or line with muffin papers. In a large bowl, mix together 1 1/2 cups flour, baking soda, baking powder and salt. In another bowl, beat together bananas, sugar, egg and melted butter. Stir the banana mixture into the flour mixture just until moistened. Spoon batter into prepared muffin cups. In a small bowl, mix together brown sugar, 2 tablespoons flour and cinnamon. Cut in 1 tablespoon butter until mixture resembles coarse cornmeal. Sprinkle topping over muffins. Bake in preheated oven for 18 to 20 minutes, until a toothpick inserted into center of a muffin comes out clean.