This is like heaven on earth for me. I'm a huge bread fan and to add cheese and garlic is just the thing to make something so delicious, superb. This is another 'Sandy' recipe from the CFYF board on Baby Center. The first time I tried this recipe was a year ago. I make it at least once every 3 months or so, when we are having pasta for dinner. It is a great alternative to garlic bread or toast. Even better in fact. I love the fact that it can be done in the bread machine and it uses AP flour, instead of bread flour. That way if I'm low on bread flour, I can still make this warm, delicious loaf of goodness. I always form it into a circle, like you would a pizza and cut it into slices once it is cooked. I left it in the oven a bit too long, this time, due to a diaper emergency. But it turned out deliciously, regardless.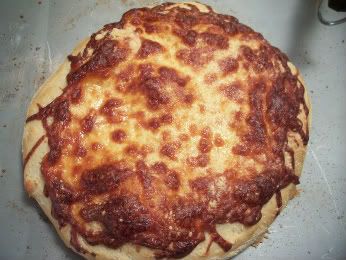 Cheesy Garlic Flat bread
Sandy
BREAD
1 1/4 cups warm water
3 1/2 cups all-purpose flour
1 1/2 tsp sugar
1 1/2 tsp salt
1 1/2 tsp active dry yeast
TOPPING:
2 tablespoons butter, melted
1/2 teaspoon garlic salt
1/2 cup shredded mozzarella cheese
1/4 cup grated Parmesan cheese
Layer bread ingredients in bread machine pan, select the dough cycle. Prepare a baking stone or sheet - spray with non-stick spray, sprinkle with cornmeal. When dough is finished, remove from pan and stretch into a rectangle, lay on prepared pan. Brush the dough with butter, sprinkle with garlic salt. Top with cheeses. Set in a draft free location to rise for 45 minutes. Meanwhile, place oven rack in lowest rack position; heat oven to 450ºF. Bake 12-15 minutes or until light golden brown.
Cindy's notes:
I use salted butter and a good tsp of minced garlic (from a jar), for the topping. I add the garlic to the melting butter and let it sit for a few minutes to flavor the butter. I find it imparts a more pure garlicky taste.