I'm a total comfort eater. Whenever I'm stressed, disappointed or sad, I'm searching for something sweet to nibble on. So when my babysitter called to cancel, yesterday, I needed something sweet and I needed it now. I remembered the ladies on Baby Center's CFYF board had started a thread on Cranberry Orange Bread. I took a gander and decided to try one of the recipes. The only problem is I didn't have fresh or frozen berries, only dried. Then I remembered DH reconstituting cranberries a few years ago, to make stuffing. So I steeped the cranberries in 3/4C of warm water for 30 mins, until they plumped up a little. The bread worked out wonderfully. It was light, moist and not too sweet ( although that may be due to the fact that we only had 3/4C of sugar in this whole house!!). So once the kids were in bed, I snuggled in to watch Survivor and eat some warm Cranberry Orange Bread and sip some tea. A great way to take my mind off of the fact that I was suppose to be out enjoying some food, friends and shopping.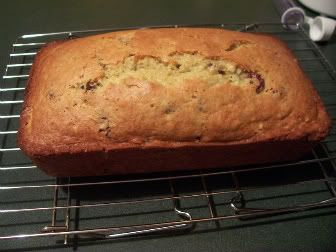 Cranberry Orange Bread
Lori
1 cup sugar
1 Tbs grated orange peel
¾ cup water
1/3 cup fresh orange juice
2 Tbs oil
1 large egg
2 cups flour
1 ½ tsp baking powder
1 tsp salt
½ tsp baking soda
1 cup halved fresh or frozen cranberries (do not thaw)
1 cup chopped nuts (optional)
Preheat oven to 350 degrees Grease bottom only of 9x5" loaf pan. In large bowl, combine sugar, orange peel, water, orange juice, oil and egg; blend well. Add flour, baking powder, salt, and baking soda; stir just until dry ingredients are moistened. Stir in cranberries and nuts. Pour into greased pan. Bake 50-60 minutes or until toothpick inserted in center comes out clean. Cool 10 minutes; remove from pan. Cool completely on wire rack.
Servings: 12 Yield: One loaf
Amy's Notes
: I can't get cranberries this time of year so I used 1 cup of whole cranberry sauce and it came out perfect!
Cindy's notes
: I reconstituted 3oz dried cranberries in 3/4 C of warm water for 30 minutes. I then used the cranberry water, for the water measurement in the recipe, adding any needed water to make 3/4C. I also used 3/4C of sugar, as opposed to 1 full cup.