This is one of my favorite recipes, to use up leftover chicken. It's so simple, yet tastes so good. I got this recipe from Sandy, on Baby Center's CFYF board. There is a joke among us ladies that if it's a 'Sandy' recipe, it must be good. She shares the most awesome dishes with us and is a vital part of our little online community. So Thanks Sandy for sharing such yummy recipes!!! Mr.B really likes this dish. I always half the recipe, so that we don't have a ton of leftovers, but use the same amount of soup, milk and cheese. I also add broccoli to the soup mixture, for a one dish meal.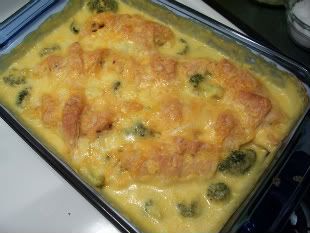 Crescent Chicken Bake
Sandy
2 cups shredded cheddar cheese, divided
1 can cream of mushroom and roasted garlic soup
1 cup milk
2 (12-oz) cans chicken, drained or comparable amount of cooked cubed chicken breast
2 cans refrigerated crescent rolls
In sauce pan combine milk, soup, and 1 cup cheese, heat slowly until cheese is melted. Pour into an 13x9 casserole dish. Separate crescents into triangles and on the wide end add a spoon full of the chicken and roll up. Set each crescent bundle into the soup mixture. Bake at 350 for about 20 minutes until rolls are browned. Top the crescents with remaining cheese and put in the oven until cheese is melted.
Cindy's notes
: I made this with cream of chicken and add garlic powder to it. It's is just as delicious as with the cream of mushroom soup. I also add fresh broccoli florets to the baking dish, before placing the crescents in.