I had some deli ham that needed to be used up. Mr.B isn't a big ham sandwich kind of guy and with Hubby working ridiculous hours, I needed a game plan. So I thought of adding some of the chopped ham and peas to some homemade Mac N Cheese. This was really good. Creamy, smoky and salty, YUM. My secret, a squeeze of spicy brown mustard, to give it a little zing.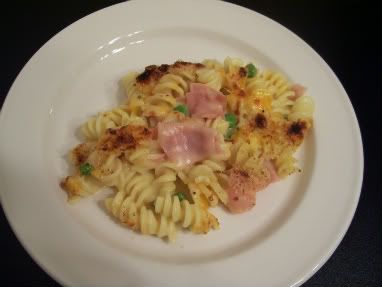 Mac N Cheese with Ham and Peas
1/2 lb macaroni or favorite pasta
2 Tbs butter
2 Tbs flour
2 C milk
1 3/4 C shredded cheese, divided ( I used extra sharp cheddar and mozzarella)
1 Tbs spicy brown mustard
salt and pepper
1 C chopped deli ham
1 C frozen peas
1/4 C seasoned bread crumbs
In a large pot of salted water, cook pasta until al dente, adding peas to pot, 1 minute before draining the pasta. Meanwhile in a medium sauce pot, melt butter and whisk in flour. Cook flour for 1-2 mins. Slowly whisk in milk, making sure to whisk away all lumps. Cook over medium heat, until it comes to a boil and thickens. Season with salt and pepper. Add 1 1/2 C of shredded cheese and mustard. Stir until combined and add chopped ham. Toss with hot drained pasta and peas. Transfer to a casserole dish and sprinkle with remaining 1/4 C of cheese and bread crumbs. Place under a hot broiler, until cheese bubbles and crust browns.
~~~~~~~~~~~~~~~~~~~~~~~~~~~~~~~~~~~~~~~~~~~~~~~~~~~~~~~~
This is a recipe I learned while working at Country Style Donuts, in Canada, during my teenage years. I often make this when I'm in the mood for an egg sandwich. Quick, simple and delicious.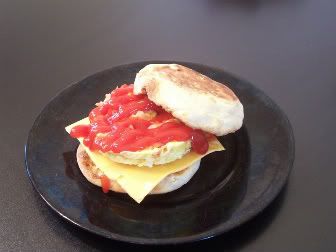 Ham and Egg English Muffins
1 egg
2 slices deli ham, chopped
salt and pepper
dab of butter
1 English muffin, toasted
In a microwave safe bowl, scramble egg, season with salt and pepper and add ham. Add butter to side of bowl. Microwave for 1 minute and 15 seconds, until eggs are no longer wet. Place egg onto a toasted English muffin, with preferred topping; cheese, tomato, ketchup, mayonnaise and lettuce.
Cindy's notes
: you could add cooked sausage, bacon, sauteed onion, peppers, to egg before microwaving, for endless sandwich possibilities.