We had a great Thanksgiving this year. I haven't been feeling 100%, so it was nice to enjoy a day of good food and friends. We were invited to one of my girlfriend's houses, so we graciously accepted. We split the menu and it was all delicious. To tell the truth, it was the most I've eaten in a month, LOL. You can find recipes to the dishes she served on her blog
here
. Thanks Judy, it was wonderful!!
I had found some simple recipes, so was anxious to try them. The first was for
Green Beans au Gratin
. Hubby hates green bean casserole, so I wanted an alternative, since I'm a green bean fan. This was so simple and delicious, a real no brainer, LOL. No picture of this one ( unless I take one of the leftovers tomorrow), since I baked it at Judy's house. The beans were tender crisp and the cheese and breadcrumbs seasoned them beautifully.
Green Beans au Gratin
1 1/2 lbs fresh green beans, washed and trimmed
1 pt whipping cream
3 oz blue cheese
3 oz Gruyere cheese, shredded
1/2 C seasoned bread crumbs
1/4 C butter, melted
pepper
Simmer green beans in a large pot of boiling water, for 6 minutes. Transfer to a paper towel lined cookie sheet, to drain. Mix bread crumbs, pepper and melted butter. Sprinkle 1/3 of crumb mixture onto bottom of casserole dish. Place beans onto crumb mixture. Pour cream over beans and sprinkle with blue cheese and remaining bread crumbs. Bake at 400 degrees for 15 minutes. Let rest 10 minutes before serving.
~~~~~~~~~~~~~~~~~~~~~~~~~~~~~~~~~~~~~~~~~~~~~~~~~~~~~~~~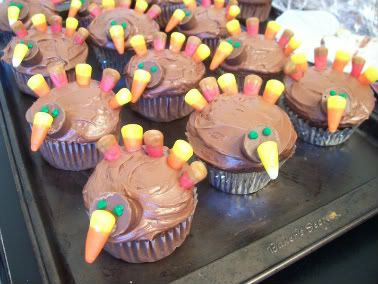 A few weeks ago, Mr.B saw a picture for cupcakes that looked like Turkeys. He got a real kick out of them, so I decided to try my hand at them, letting him help decorate them. I used cake mix and canned frosting to make my life easier. These were so cute and Mr.B was so proud of making his turkey cupcakes.
Turkey Cupcakes
1 box Betty Crocker® SuperMoist® devil's food cake mix
Water, vegetable oil and eggs called for on cake mix box
2 containers (1 lb each) Betty Crocker® Rich & Creamy milk chocolate frosting
1 tube (4.25 oz) Betty Crocker® white decorating icing
1 tube (0.68 oz) Betty Crocker® brown decorating gel
Candy corn
Chocolate candy sprinkles
Heat oven to 350°F (325°F for dark or nonstick pans). Make and cool cake as directed on box for 24 cupcakes. Frost cupcakes with frosting. Place remaining frosting in corner of resealable freezer plastic bag. Snip off small corner of bag.
To decorate each cupcake, pipe 1-inch mound of frosting on 1 side of cupcake to look like head of turkey. Make eyes with white decorating icing and brown decorating gel; add candy corn for beak. To make feathers, pipe frosting on opposite side to hold candy corn; place candy corn upright on frosting to look like feathers. Sprinkle chocolate candy sprinkles near head and at base of feathers. If desired, add candy corn at base of cupcake for feet. Store loosely covered.
Cindy's notes
: 1 used 1 container of frosting, omitted the sprinkles and used a Rolo candy for the head.
~~~~~~~~~~~~~~~~~~~~~~~~~~~~~~~~~~~~~~~~~~~~~~~~~~~~~~~~
I receive email newsletters from a site called HomeCook'n. This email contained a recipe for a no knead roll, that looked so delicious. I wasn't sure if I wanted to take the time on these, with the rolling and such, but couldn't resist trying them. They were so easy to make!! I am so not a patient person and hate making pie dough, rolled cookies, etc; but these came together in the matter of minutes, once the dough had risen. They were light fluffy and oh so buttery. I am definitely making these my Holiday 'go to' rolls, from now on.
Butterhorn Rolls
Recipe by Kathy Oaks
1 tablespoon yeast
1/4 cup water
1/2 cup butter
3/4 cup milk
1/2 cup sugar
3 eggs
3/4 teaspoon salt
4 1/2 cups flour
1/4 cup butter
Dissolve yeast in warm water, add melted butter and remaining ingredients , reserving 1/4 cup butter. Let rise until it doubles in size. Separate into 2 balls and roll out into 2 circles. Slather each circle with remaining 1/4C of butter. Cut each circle like a pizza into 16 equal pieces (use a pizza cutter). Roll them up crescent style and at this point you may flash freeze them on a cookie sheet and then dump them in a freezer bag to eat in the coming weeks or months or you can let them rise again for about 2 hours. Bake at 375 degrees, on a buttered cookie sheet for 10 minutes or until lightly golden. (When serving them from the freezer just pull them out and let them thaw and rise for about 3 hours on a buttered cookie sheet and bake as directed.)
~~~~~~~~~~~~~~~~~~~~~~~~~~~~~~~~~~~~~~~~~~~~~~~~~~~~~~~~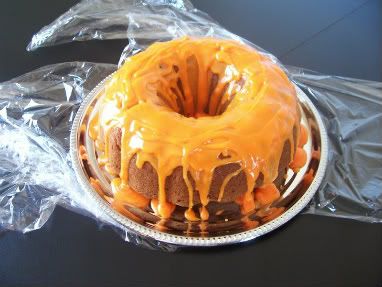 I'm a Food Network junkie, so when I saw Sandra Lee make this bundt cake, 3 yrs ago, I had to try it. It was a huge success and I've made it every Thanksgiving since then. The recipe makes 2, but I cut the cake mix in half and freeze the remainder, for later use. The cake is moist, rich and I love the warmth the pumpkin pie spice brings to it all. I wasn't too pleased with the glaze result this year, but it still tasted great, LOL.
Spiced Pumpkin Bundt Cake with Citrus Glaze
Sandra Lee
Cake:
6 eggs
2/3 cup oil
1 cup canned pumpkin pie mix
2/3 cup water
2 tablespoons pumpkin pie spice
1 box moist spice cake mix
1 box moist yellow cake mix
Glaze:
Yellow food coloring
Red food coloring
1 pound powdered sugar
1/3 cup orange juice, no pulp
Cake:
Preheat the oven to 350 degrees F. Butter and flour a 12-cup bundt cake pan. In a large mixing bowl, combine the eggs, oil, pie mix, water, and pumpkin pie spice. Beat until well blended. Add the cake mixes and stir to combine. Transfer the mixture to the prepared pan and bake for 50 minutes, or until a skewer inserted in the center comes out clean. Invert the cake onto a cooling rack.
Glaze:
Combine 2 parts yellow food coloring with 4 parts red food coloring to make orange food coloring. Whisk the powdered sugar, orange juice, orange liqueur, and food coloring in a saucepan on low heat for 5 minutes or until the sugar melts. If the glaze seems too dry, add more water or orange juice to reach the right consistency. Drizzle the glaze over the cake.
This post linked to
Days of Thanksgiving Holiday Party
This Week's Craving
Cupcake Tuesday