The ladies on Baby Center made me, LOL. The question of the day on the What's for Dinner thread was " what is your favorite kind of pie?". Well I mentioned
Butterscotch Pie
that my grandma use to make all the time. She passed away 5 yrs ago, so my Mom makes this once in a blue moon, when I request it, LOL. So I called my Mom for the recipe, which is totally confusing. So she suggested I make the pie, so I could better explain how to make it. Plus she was giving me a French recipe, that I had to translate into English. So I made the pie, taking pictures to better explain the spots I thought were 'weird'.
Butterscotch Pie
1C brown sugar, packed
3 Tbs flour
2 Tbs butter, room temperature
1 1/4 C milk
1 pre baked pie shell
In a medium saucepan, thoroughly mix the flour and brown sugar and then mix in the butter. Place sauce pan on medium heat, to melt sugar. Stirring constantly, cook sugar mixture until it become hard to stir and looks crumbly, about 5-10 minutes.
Remove from heat and add milk.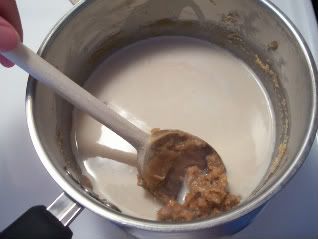 Return to medium-low heat and bring to a simmer, stirring accosionally. Cook until all lumps have dissolved and mixture thickens to the consistency of a very thick gravy. Let cool 15 minutes and pour into baked pie shell. Refridgerate 2 hrs, until set, before cutting.
Cindy's notes:
You will totally think you've messed up this pie. I thought so when I was making it, but it turned out wonderfully. I used a Graham crust, since I can not make pie crust to save my life, LOL.