Well, Hubby made us a spaghetti dinner, a few nights ago. True to form, he cooked up a whole box of spaghetti, for 3 people. I have a ton of cooked spaghetti left, so last night I wanted to use some up. I found a cute recipe, in a tiny Ragu Kids cook book, that I received in the mail, last year. It was the quickest dinner I've ever made, apart from PB&J, LOL. It was a miss with me, I think because of the pasta sauce I used. Mr.B loved his and gobbled one and a half muffins up. He thought it was silly that spaghetti was turned into a muffin. I may someday try this again, when I have my favorite pasta sauce on hand, or my mother in law's sauce to use up.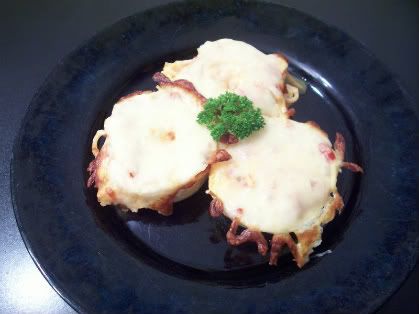 SPAGHETTI CUPCAKES
Ragu

8 ounces spaghetti, cooked and drained
4 eggs, slightly beaten
1/2 cup grated Parmesan cheese
1/4 tsp. ground black pepper
1-1/2 cups Ragu® Old World Style® Pasta Sauce
2 cups shredded mozzarella cheese (about 8 oz.)

1. Preheat oven to 375°. Grease 12-cup muffin pan; set aside.2. Combine spaghetti, eggs, Parmesan cheese and pepper in large bowl. Evenly press into muffin cups to form a "crust". Evenly top each cup with Pasta Sauce, then mozzarella cheese.3. Bake 15 minutes or until bubbling. Let stand 5 minutes before serving.

Nutritional Information
Calories: 280, Calories From Fat: 110, Total Fat: 12g, Saturated Fat: 6g, Cholesterol: 135mg, Sodium: 560mg, Total Carbohydrate: 26g, Dietary Fiber: 2g, Sugars: 4g, Protein: 17g, Trans Fat: 0g, Vitamin A: 10%, Vitamin C: 2%, Calcium: 25%, Iron: 10%