I was thinking of our Thanksgiving leftovers all day. The juicy turkey, creamy potatoes, rich green beans. Then about an hour before dinner, I got inspired to make a
Turkey Shephard's Pie
out of it all. I must say it turned out pretty darn good, LOL. Mr.B inhaled it and I had to stop myself after a huge helping. I wanted stuffing in my pie, so I made a quick pan stuffing that I had seen Rachael Ray make on her show, 30 minute meals, a few years ago. I don't have the exact recipe, so I'll just share my own.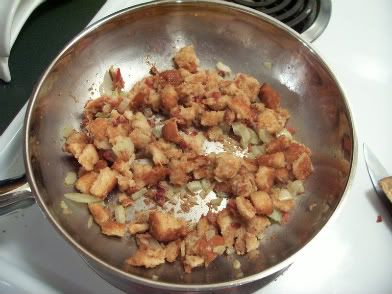 Pan Stuffing
4 slices of toast, buttered
2 Tbs butter
1/2 small onion, chopped
2 ribs celery, chopped
1/4 tsp poultry seasoning
1/4 C chopped bacon, or real bacon bits
1/4- 1/2 C chicken broth
Toast your favorite bread and butter it generously. Cut it into small cubes and set aside. In a skillet, melt butter and add onion, celery and poultry seasoning. Cook until onions soften, add in bacon bits. Add in toast cubes and moisten with chicken broth, to desired consistency.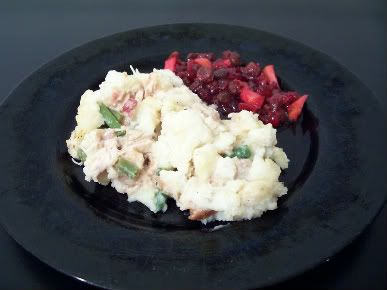 Thanksgiving Leftover Turkey Shephard's Pie
2C chopped cooked turkey
2 C leftover or pan stuffing
1-2 C leftover veggies ( I used green beans)
1 C leftover gravy
2 C leftover mashed potatoes
butter
In a large bowl, combine turkey, vegetables, stuffing and gravy. If too thick, thin out with a bit of chicken broth. Transfer to a casserole dish and top with mased potatoes. Dot with butter and bake at 375 degrees, for 30 minutes or until top is nice and golden.