I made this for dinner last night. Chicken Teriyaki is one of my favorite, when we go out to eat, so I thought I'd give this recipe a try. My girlfriend Christine posted this on Baby Center's CFYF board and it was receiving rave reviews. They were right. The chicken was tender, salty, sweet, garlicky...... perfect! I only used 4 skinless thigh, since well it was just Mr.B and I for dinner. I kept the sauce the same, using some to stir fry some fresh Broccoli, to tender crisp. I served it over white rice, which I drizzled with some of the pan drippings. It was quite nice. A sprinkle of sesame seeds on top, would have topped it all, but we were out. Mr.B was being picky, he ate a bit of chicken and rice, avoided the broccoli, all the while saying it was the best dinner ever ( hmmmm....).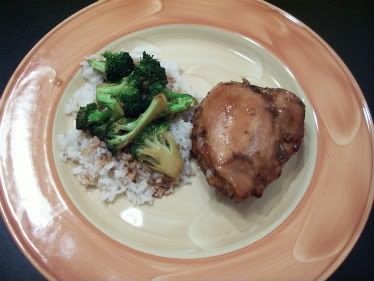 Baked Teriyaki Chicken
Christine
INGREDIENTS
1 tablespoon cornstarch
1 tablespoon cold water
1/2 cup white sugar
1/2 cup soy sauce
1/4 cup cider vinegar
1 clove garlic, minced
1/2 teaspoon ground ginger
1/4 teaspoon ground black pepper
12 skinless chicken thighs
DIRECTIONS
In a small saucepan over low heat, combine the cornstarch, cold water, sugar, soy sauce, vinegar, garlic, ginger and ground black pepper. Let simmer, stirring frequently, until sauce thickens and bubbles. Preheat oven to 425 degrees F (220 degrees C). Place chicken pieces in a lightly greased 9x13 inch baking dish. Brush chicken with the sauce (I pour it over). Turn pieces over, and brush again. Bake in the preheated oven for 20 minutes. Turn pieces over, and bake for another 15 minutes, until no longer pink and juices run clear. Brush with sauce every 10 minutes during cooking (I skip this step).
Christine's notes
-Line your pan with foil. Double the sauce! Make stir fry veggies and toss the veggies in one cup of reserved sauce. Serve over Rice