If you don't know about Kraft Food and Family Magazine, where have you been? Just go to to their
site
and sign up to get a free magazine in the mail, each month or so. I found this Scalloped Potato recipe in one of their issues. Looked simple, used ingredients I always have on hand and what's better than potatoes, ham and cheese??? So this is in our rotation every 4 months or so, when I'm in the mood for some comfort food. I have to leave the peas out, since Hubby hates peas, but I either serve them on the side or with Bushes Country Style Baked Beans.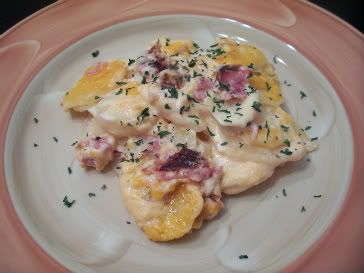 Easy Cheesy Scalloped Potatoes
1 pkg. (8 oz.) PHILADELPHIA Cream Cheese, softened
1/2 cup BREAKSTONE'S or KNUDSEN Sour Cream
1 cup chicken broth
3 lb. red potatoes, thinly sliced (about 12 cups)
1 pkg. (6 oz.) OSCAR MAYER Smoked Ham, chopped
1 pkg. (8 oz.) KRAFT Shredded Cheddar Cheese, divided
1 cup frozen peas
PREHEAT oven to 350°F. Spray 13x9-inch baking dish with cooking spray. Mix cream cheese, sour cream and chicken broth in large bowl until well blended. Add potatoes, ham, 1-3/4 cups of the cheese and peas; stir gently to coat all ingredients. SPOON into prepared baking dish. Sprinkle with remaining 1/4 cup cheese. BAKE 1 hour or until heated through and potatoes are tender.
Cindy's notes
: I bake at 375 degrees, covered, for an hour, then take the foil off and bake for an additional 15 minutes. The potatoes are never tender enough at 350, for 1 hr.