I've been craving Hubby's Broccoli Cheese Rice for some time now and with him working so much, haven't been able to convince him to make it. So the other night, I had flounder sitting in the fridge and decided to try and stuff it with my own version of the rice. After researching online and trying to find a darn recipe that didn't include Cream of _______ soup, I had a game plan. I made Broccoli Cheese Rice Casserole, reserving half to stuff the fish. It turned out really well. The fish was tender and flaky, the rice fluffy and cheesy. I had 2 servings, a very rare occurrence for fish dishes. Mr.B loved dinner as well and ate his whole serving right up. Hubby said it was good, though not as good as his, LOL.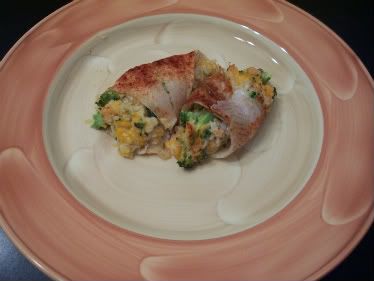 Broccoli Cheese Rice Casserole
1 1/2 C just cooked brown rice
1 head broccoli, chopped
1 small onion, minced
1 C cheddar cheese, shredded
1/4 cup chicken broth
salt and pepper
Mix all ingredients together and transfer to a casserole dish. Bake covered at 350, for 30 minutes or until broccoli is tender.
To stuff the Fish:
Season any of your favorite white fish ( Flounder, Sole, Tilapia) with salt and pepper. Spoon a generous amount of the casserole mixture, onto the center of the fillet. Fold the 2 ends over the filling and secure with a tooth pick. Sprinkle with paprika. Bake in a 350 degree oven, until fish is flaky, about 10-20 minutes, depending on the thickness of your fillets. Serve with any remaining Broccoli Cheese Rice Casserole.