At the beginning of last week, I found myself watching an episode of Paula Deen's, on Food Network. She was sharing recipes on how to stretch a buck. She made this amazing looking
Mustard Thyme Catfish
and
Black Eyed Pea cakes
. I have been wanting to cook with fish more often and knew Hubby loves Catfish, so I decided to give it a try, since he was off the next day. I must say it was a pretty darn good dinner, LOL. The catfish was crispy and flaky. The mustard and thyme paired perfectly with the fish, without over powering it. Both Hubby and I thought the Pea Cakes could use an extra little something, maybe some grated onion or such, but they were good none the less. Slightly salty, smoky, creamy and crispy. Mr.B tried it all and loved the fish, but wasn't too fond of the pea cakes, LOL.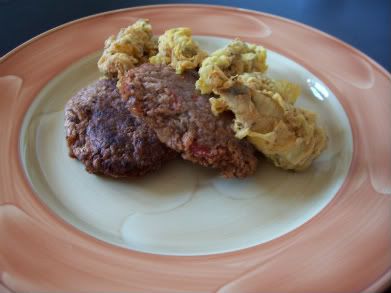 Mustard Thyme Catfish
courtesy of Paula Deen
4 fillets of catfish
1/4 C dried Thyme
2 C yellow mustard
Seasoned flour, for dredging
In a large dish slather fish with mustard and thyme. Marinate a few hrs, to overnight. Heat oil to 350 in a deep fryer. Dredge fillets in flour, shaking off any access. Fry until a deep golden brown.
Cindy's notes
: I used fresh catfish nuggets, to make it more kid friendly. The pieces were perfect for Mr.B.
Black Eyed Pea Cakes
courtesy of Paula Deen
3 C cooked Black eyed peas ( best if cooked with ham hock), or 2 cans peas cooked with ham hocks
1/2 C cooked chopped bacon
1/3 C roasted red pepper, chopped
flour to help bind
salt and pepper
1 Tbs butter
1 Tbs vegetable oil
In a medium bowl, coarsely mash beans with a fork, adding bacon and roasted red pepper. Add just enough flour to bind, season with salt and pepper. Shape into 4 patties and fry in oil/butter until golden and crispy.