Friday night, I hosted a Holiday Cookie Swap, for my girlfriends. It was a great time!!! The cookies were divine and the company even better. We all ate to our hearts content and were all left with yummy treats for the rest of the week. I decided to serve a few savory appetizers, for those who hadn't had a chance to sit for a proper dinner. On the menu was
Savory Parmesan Bites
,
Brushetta with fresh Mozzarella
and
Roasted Red Pepper Jelly Cream Cheese Dip
. I also served a delectably rich and creamy
Mocha Punch
, which guests could gussy up with Bailey's for extra Holiday Cheer. I must include 2 of my girlfriends cookie recipes, for honorable mentions. Kim's
Saltine Toffee Cookies
are unbelievably addictive. Sweet, salty, crunchy. I haven't been able to keep my hands off them, LOL. Natalie's
Chocolate Peppermint Cookies
are a beautiful rendition of Thin Mints. The perfect balance of chocolate and mint.
Mocha Punch

1/4 c instant coffee granules
1/2 c sugar
1/2 c Nestle quick Chocolate mix
2 quarts water
1/2 gallon vanilla ice cream
1/2 gallon chocolate ice cream
Directions:Bring water to a boil. Stir in sugar and coffee granules and chocolate mix until dissolved. Place in fridge overnight (you can do less as long as it's chilled). Soften both ice creams (let sit for a little while before mixing). Place both gallons of ice cream by scoopfuls (this helps the ice cream dissolve for the drink) and chilled drink mix into punch bowl. Mix ingredients until ice cream partially melted.
Bruschetta
4 large tomatoes, seeded and chopped
1 small onion, minced
2 cloves garlic, minced
1/2 tsp basil
1/2 tsp oregano
salt and pepper
2 Tbs olive oil
1 baguette, sliced
1 8 oz log fresh mozzarella, sliced
Combine tomatoes, onion, garlic, salt, pepper, basil, oregano and olive oil in a large bowl. Refrigerate at least 1 hr, to let the flavors combine. in a 375 degree oven, toasts baguette slices, until golden brown. Top with tomato mixture and 1 slice of mozzarella. Return to the oven until cheese has melted.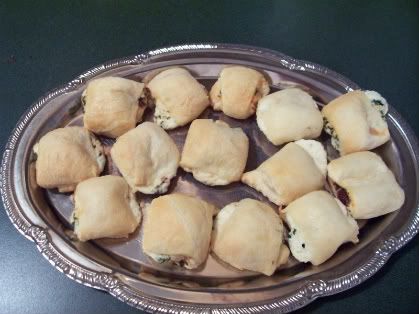 Savory Parmesan Bites
Kraftfoods.com
1 pkg. (8 oz.) PHILADELPHIA Cream Cheese, softened
1 cup KRAFT Grated Parmesan Cheese, divided
2 cans (8 oz. each) refrigerated crescent dinner rolls
1 cup chopped red peppers
1/4 cup chopped fresh parsley
HEAT oven to 350°F. Beat cream cheese and 3/4 cup Parmesan with mixer until well blended.
SEPARATE crescent rolls into 8 rectangles; press perforations together to seal. Spread each with 3 Tbsp. cream cheese mixture. Top with peppers and parsley. Fold 1 long side of each dough rectangle over filling to center; fold again to enclose filling. Cut each into 4 squares. Place, seam-sides down, on baking sheet. Sprinkle with remaining Parmesan.
BAKE 13 to 15 min. or until golden brown
Roasted Red Pepper Jelly and Cream Cheese Dip
1 brick cream cheese, softened
1/4- 1/2 C roasted red pepper jelly ( depends on how spicy you like it)
Mix both ingredients well and serve with crackers, pita chips and vegetables.
~~~~~~~~~~~~~~~~~~~~~~~~~~~~~~~~~~~~~~~~~~~~~~~~~~~~~~~~
The cookies I chose to make were influenced by the fact that I had a ton of Butterfinger chocolate bars leftover from Halloween. So I wanted to use those up and found a recipe for
Butterfinger Cookies
, online somewhere. These were good, but not knock your socks off good. Think of a supped up peanut butter cookie.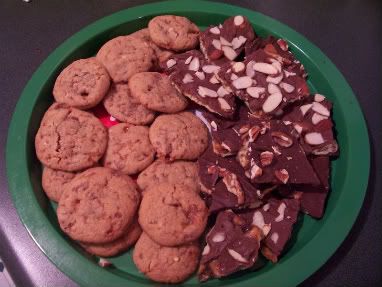 Butterfinger Cookies (left) and Saltine Toffee Crunch (right)


Butterfinger Cookies
1/2 cup butter, softened
3/4 cup granulated sugar
2/3 cup packed brown sugar
2 eggs
1 1/4 cups chunky peanut butter
1 1/2 teaspoons vanilla extract
1 cup flour
1/2 teaspoon baking soda
1/4 teaspoon salt
3 large Butterfinger candy bars, chopped
In a mixing bowl, cream butter and sugars. Add eggs; beat well. Blend in peanut butter and vanilla extract.
Combine flour, baking soda and salt; add to creamed mixture and mix well. Stir in candy bars. Shape into 1 1/2 inch balls and place on greased cookie sheet. Bake at 350 degrees F for 10 to 12 minutes or until golden brown. Cool on wire racks.
Makes 4 dozen.
Cindy's notes:
I had to add about an extra 1/2C of flour, to make the dough dry enough to roll.
Saltine Toffee Cookies
Kim
4 ounces saltine crackers
1 C butter
1 C dark brown sugar
2 C semi sweet chocolate chips
3/4 C pecans or sliced almonds
Preheat oven to 400 degrees. Line cookie sheet with saltine crackers in a single layer. In a saucepan combine sugar and butter. Bring to a boil for 3 minutes. Immediately pour over saltines and spread to cover crackers completely. Bake for 5-6 minutes. Remove from oven and sprinkle with chocolate chips. Let sit 5 minutes and spread melted chocolate. Top with chopped nuts. Let cool completely and break into pieces.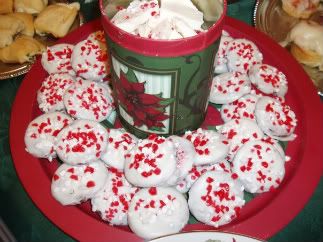 Chocolate Peppermint Cookies
Natalie
1 cup all-purpose flour, plus more for surface
1/2 cup unsweetened Dutch-process cocoa powder
1/2 teaspoon baking soda
1/2 teaspoon baking powder
1/2 teaspoon salt
2 1/2 ounces (5 tablespoons) unsalted butter, softened
3/4 cup sugar
1 large egg
1 large egg yolk
3/4 teaspoon pure peppermint extract
8 large candy canes or 30 peppermint candies, crushed
2 pounds white chocolate, coarsely chopped
Preheat oven to 325 degrees. Sift flour, cocoa powder, baking soda, baking powder, and salt into a bowl. Beat butter and sugar with a mixer on medium-high speed for 1 minute. Reduce speed to medium-low, and add egg, then yolk, beating well after each addition. Beat in peppermint extract. Slowly add flour mixture, and beat until just incorporated. Shape dough into 2 disks, wrap each in plastic, and refrigerate until firm, at least 1 hour (or up to 2 days). Roll out 1 disk of dough on a lightly floured surface to 1/8-inch thickness. Freeze until firm, about 15 minutes. Using a 2-inch round cutter, cut out circles, and place 1 inch apart on parchment-lined baking sheets. Roll and cut scraps once. Freeze cookies until firm, about 15 minutes. Repeat with remaining disk. Bake until cookies are dry to the touch, about 12 minutes. Transfer parchment, with cookies, to wire racks, and let cool. (Undecorated cookies will keep, covered, for up to 3 days.) Sift crushed candy, and separate larger pieces from dust, reserving both. Melt chocolate in a heatproof bowl set over a pot of gently simmering water. Remove from heat. Dunk cookies into melted chocolate. Using a fork, turn to coat, let excess drip off, and gently scrape bottom against edge of bowl. Place on parchment-lined baking sheets, and sprinkle 1/4 teaspoon of either candy pieces or dust on top. Repeat, sprinkling half the cookies with pieces and the rest with dust. Refrigerate until set, up to 3 hours. Decorated cookies are best served the same day