Turkey..... let's face it, you can never get enough. So when Hubby mentioned he could get a Turkey dirt cheap, at work, we pounced on the opportunity ( one of the rare times I enjoy Hubby moonlighting as a butcher, at our local grocery store). Since we don't have a 2nd freezer, we needed to roast this baby up. So we revisited Thanksgiving, last night for dinner.
The turkey was simple, I'm not a fancy girl. I mixed a stick of butter with sea salt, poultry seasoning and pepper. I then slathered the breast, underneath the skin with as much butter as I could. The remaining butter was rubbed on the skin and seasoned with salt and pepper. In the pan and in the oven, Done. I served it with mashed potatoes,
Sweet Potato Crunch
( courtesy of Baby Center's CFYF board), corn, a half batch of butter horn rolls, gravy and
Turtle Pumpkin Mousse Pie
. We ate too much, I felt so sick and even skipped dessert, LOL.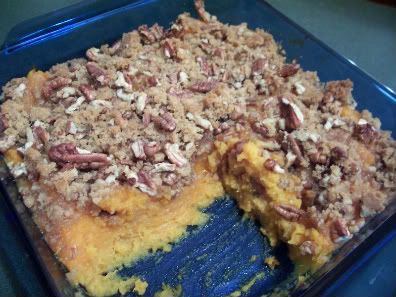 When I grew up, I'd never seen, let alone tasted, a sweet potato. So 6 yrs ago, when I had Thanksgiving at my Mother in Law's house, she had a sweet potato casserole that I fell in love with. I never did ask her for the recipe, but was fortunate enough to find a similar one on Baby Center's CFYF board. Creamy, sweet and crunchy, perfect.
Sweet Potato Crunch
Michelle
3 cups cooked, mashed sweet potato
½ c sugar
2 eggs, beaten
½ c butter, melted
½ c milk
½ tsp vanilla
Combine above ingredients and spoon into a greased casserole.
Topping: ½ c brown sugar
1 c pecans, chopped
1/3 c flour
1/3 stick butter, melted
Combine topping ingredients and spoon over potato mixture. Bake, uncovered at 350 for 35 minutes.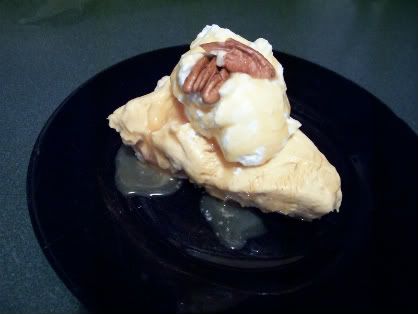 This pie was a total fluke, LOL. I originally planned to make a
Turtle Pumpkin Pie
, from Kraftfoods.com, but got carried away, when adding the whipped cream. I LOVE whipped cream. So I created a light creamy pumpkiny pie, perfect after a heavy meal.
Turtle Pumpkin Mousse Pie
1 box instant vanilla pudding
3/4 C milk
1 C pumpkin
1/2 tsp cinnamon
1/4 tsp nutmeg
1 1/2 C fresh whipped cream
1/2 C caramel sauce
1/2 C chopped pecans
1 baked pie shell, or graham pie crust
In a bowl, combine pudding mix, milk, pumpkin, cinnamon and nutmeg. Whisk until smooth. Fold in fresh whipped cream. It the bottom of your pie shell, pour in caramel sauce and top with chopped pecans. Pour mousse into pie shell and refridgerate at least 2 hrs before serving. Garnish with extra whipped cream, caramel sauce and pecans, before serving.
This post linked to
This Week's Craving