One of my girlfriends was nice enough to bring me a new cook book, as a Hostess gift, Friday evening. After browsing through it, I noticed a recipe for Rotisserie Style Chicken. I had been planning on roasting a chicken, so figured I'd give it a try. This was the best chicken I've ever made!!! It was so flavorful, slightly spicy and just the correct amount of saltiness. Hubby, who wasn't feeling well, managed to eat one whole breast of chicken to himself, LOL. He suggested this be our method of roasting chicken from now on. The meat was tender and juicy and the skin crisp; better than what you would pay $6 for at any grocery store. A definite winner!!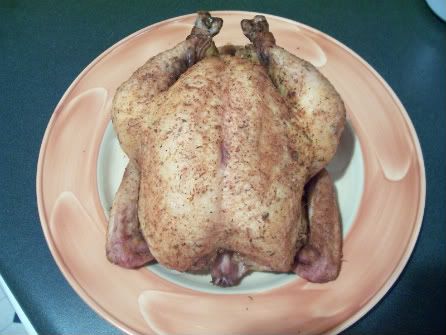 Rotissery- Style Chicken

1 (4-5lb) whole chicken
2 tsp salt
1 tsp paprika
1/2 tsp onion powder
1/2 tsp ground thyme
1/2 tsp black pepper
1/2 tsp dried oregano
1/4 tsp cayenne pepper
1/4 tsp garlic powder
1 onion, quartered

Remove giblets from chicken. Rinse out chicken and pat dry. Set aside. In a small bowl, mix together spices. Rub spice mixture on the insinde and outside of chicken. Place onion inside chicken cavity. Place chicken in a sealable bag and refrigerate overnight. Remove chicken from bag and place in roasting pan. Bake uncovered at 250 degrees, for 5 hrs or until internal temperature reaches 180 degrees.
Cindy's notes: We were out of onion salt, so I omitted that. My chicken was a bit over 3 lbs, so I cooked it for about 3 hrs, pulling it out when the internal temperature was 165 degrees. I covered it with foil and let it rest 20 minutes before cutting into it.