When I was in second grade, our teacher showed us how to make Christmas ornaments, using a simple dough, that hardened when baked. I remember bringing the recipe home and settling in with my family to make these. We made them from time to time growing up, and it is one of my fondest memories of Christmas, as a child. So this year, I decided to start the tradition with Mr.B. He really enjoyed mixing the dough, rolling it out and cutting with his cookie cutters. He did a wonderful job too, he is growing up so fast. I let them dry an extra day, since they were still a bit soft, after baking them. We finally painted them this morning, and they turned out wonderfully. Mr.B is so proud of his ornaments for the tree. What a great way to start the Holiday Season.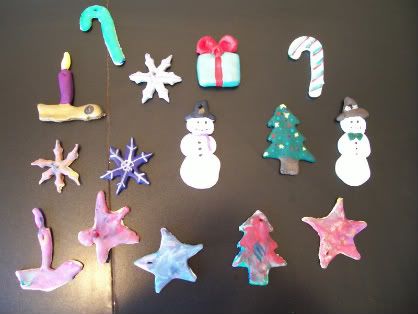 Baker's Salt Dough Ornament Clay

1C flour
1/2 C salt
1/3 C water

Mix all to form a dough. Add food colorings, if desired, or paint once baked and dry.Roll out and cut with cookie cutters, or shape as desired. Make a hole in the dough, before baking, or insert an ornament hook. Bake in a 275 degree oven, for 1 hr.
This post linked to