I was in the mood for Mexican, so I decided to try these recipes I had copied from Baby Center's Cooking for your Family board. We had no tortillas or taco shells, so the Taco Bake was perfect, since I had crescent rolls in the fridge. These were really good and comforting. The rice was flavorful and I omitted the chilies, since I was hoping Mr.B would eat some. He however, did not, LOL. It was still too spicy. He turned his nose up at the Taco Bake before even tasting it, and even after our 1 bite rule, did not have any interest in it. My mother in law and I loved these dishes and were happy to eat the leftovers the next day. She even asked for the rice recipe, so that must account for something.
Cheesy Beans and Rice
LBsMom via Allrecipes.com
1 cup uncooked brown rice
1 (16 ounce) can kidney beans, rinsed and drained
1 large onion, chopped
1 tablespoon canola oil
1 (14.5 ounce) can diced tomatoes and green chilies, undrained 2 teaspoons chili powder
1/4 teaspoon salt
1 1/4 cups shredded reduced-fat Cheddar cheese, divided
Cook rice according to package directions. Transfer to a bowl; add the beans. In a nonstick skillet, saute onion in oil for 4-5 minutes. Stir in the tomatoes, chili powder and salt. Bring to a boil; remove from the heat.
In a 2-qt. baking dish coated with nonstick cooking spray, layer a third of the rice mixture, cheese and tomato mixture. Repeat layers. Top with remaining rice mixture and tomato mixture.
Cover and bake at 350 degrees F for 30 minutes or until heated through. Uncover; sprinkle with remaining cheese. Bake 5-10 minutes longer or until cheese is melted.
Cindy's notes
: I used a 14.5oz can of petite diced tomatoes instead of tomatoes with chilies.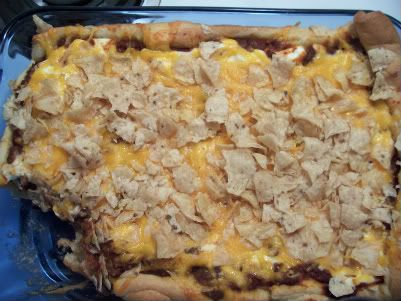 CRESCENT TACO BAKE
Rachel via Taste of Home Best Loved Casseroles
1 tube crescent rolls
2 cups crushed corn chips, divided
1 ½ lb. ground beef
1 can tomato sauce
1 pkg. taco seasoning
1 cup sour cream (used 2)
1 cup cheddar cheese, shredded
Unroll crescent rolls into a rectangle; press onto bottom and 1 inch up the side of a greased 13x9 baking dish. Seal the seams and perforations. Sprinkle with 1 cup of chips. Set aside.In a medium skillet, cook beef until no longer pink; drain. Stir in tomato sauce and taco seasoning; bring to a boil. Reduce heat and simmer, uncovered for 5 minutes. Spoon over chips. Top with sour cream, cheese and remaining chips.Bake uncovered at 350 for 25-30 minutes or until the crust is lightly browned.