Dansk Galop Granskbread
, what the heck is she talking about??? Well, I thought the same thing when I saw this on Baby Center's CFYF board. It's a really quick, easy and delicious bread. It rises in the oven, so all you need to do is knead it the first time around. I tried this the other night, when I made soup, since I wanted fresh bread, but was too late on getting ingredients into the bread machine. I used Sandy's method and added some whole wheat flour and oatmeal to the dough. It was a really good bread. Not too dense, but not light and airy either. It was even really good toasted up the next morning.
So like I said, I had made the bread to go with
Black Eyed Pea soup
. This is a recipe from the Year of Crockpotting blog that I follow. I used some ham that I had in the freezer, since I'm not a big sausage fan. The soup was hearty and delicious. I wasn't too sure how the Italian seasoning would pair with the ham, but the flavors blended perfectly. Definitely a soup that I will be making again.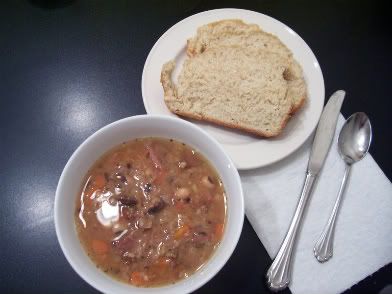 Dansk Galop Granskbread/ Danish Quick Yeast Bread
~*~Sandy~*~

2 pkgs active dry yeast (or 4 1/2 tsp)
1/2 cup warm milk (for yeast)
1/2 tsp salt
2 tsp sugar
2 T butter, melted
4 cups flour
1 cup milk

Use large bowl. Dissolve yeast in half cup warm milk, stir a few minutes. Add salt, sugar and butter, mix well. Sift flour into bowl and add the rest of the milk, mix again.
Place dough on a lightly floured board and knead with hands until dough is smooth (5 to 10 minutes). Form loaf and place in greased loaf pan.
Place in COLD oven, set temperature on 350º and turn on heat. Bake 50-60 minutes. This is a very nutritious bread on account of the large amount of yeast. Because the oven is cold when bread is put in, the bread rises nicely.
Sandy's Variation: In place of flour use 3 cups bread flour, 3/4 cup whole wheat flour and 1/4 cup oats.
Sally's Variation: Use the regular beater on the Kitchen Aid stand mixer to mix up the ingredients. When most of the flour is mixed it, switch to the dough hook and add the rest. Let it run for about 10 minutes.


Crockpot Black Eyed Pea Soup
crockpot365.blogspot.com
1 pound dried black eyed peas
--1 pound spicy sausage (I used Aidells chicken habanero and green chile)
--6 cups chicken broth
--1 yellow onion, diced
--1 cup diced carrots
--1 cup diced celery
--4 cloves garlic, diced
--1/2 tsp Italian seasoning (not pictured. I didn't know I needed it at first. But I did.)
--1 tsp kosher salt
--1/2 tsp black pepper
--Tabasco sauce (to add at the end to taste)
The Directions.
Soak your beans overnight. Drain and pick out the undesirables (broken, discolored beans) in the morning.Use a 5 to 6 quart crockpot. This will serve about 8 people. Dice the veggies, and dump them into your crockpot with the pre-soaked beans. Add sliced sausage. Pour in broth, and stir in Italian seasoning, salt, and pepper.Cover and cook on low for 8 hours, or on high for about 6. Before serving, use a stick blender to smash up about 1 cup of beans. If you don't have a stick blender, scoop out 1 cup of beans, blend them in a traditional blender, and add back to the soup. Don't blend too much---just enough to get the broth thicker and creamy-looking.Ladle into bowls, and add Tabasco sauce to taste.
Cindy's notes
: I subbed about 1 lb of chopped ham for the sausage. Also, I don't have an immersion blender, so I just mashed up about half the bean/veggie mixture, with my trusty ole potato masher.