I always try and find ways to get more veggies into Hubby and Mr.B. So now when I make lasagna, I add an extra layer of veggies, between the 2 layers of meat. M.B sometimes manages to find my hidden little treasures, but more often than not, he eats his meal blissfully unaware of ingesting spinach, carrots and peppers, LOL.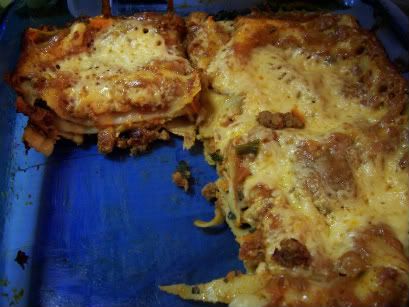 Extra Veggie Lasagna
12 no boil lasagna noodles
3-4 C favorite meat sauce, jarred or homemade
10 oz frozen spinach, thawed and drained
2 large carrots, shredded
1/2 red pepper, minced
2 C mozzarella cheese
Parmesan cheese
Coat a 9X11 inch baking dish with a thin layer sauce. Place 3 noodles over sauce and cover with sauce and 1/2 C of cheese. Place 3 more noodles and top lightly with sauce. Evenly distribute spinach, carrots and peppers, over noodles. Sprinkle with 1/2 C mozzarella. Repeat first layer ( noodles, meat sauce and cheese) topping with remaining noodles, sauce, mozzarella and sprinkle of Parmesan. Bake at covered, at 375, for 1 hr. Let sit 10 mins, before serving.
~~~~~~~~~~~~~~~~~~~~~~~~~~~~~~~~~~~~~~~~~~~~~~~~~~~
This
Frosted Banana Bar
recipe was one of the recipes, in our Meal of the Week challenge, on Babycenter's Cooking for your Family board. I always have ripe bananas in the freezer, so of course I had to try the recipe. I baked mine in a 9X11 inch pan, so they were a tad thicker than they are suppose to be. I also had to bake them longer, for this same reason. Since I used a smaller pan, I halved the frosting recipe. These are really good. They have a subtle banana flavor. I shared a piece with Hubby last night, and he really enjoyed them. So much so, that he got up and grabbed his own piece. I never thought of pairing bananas with cream cheese frosting, but they go well together.
FROSTED BANANA BARS
Lori~Taste of Home
These are the bomb, if anyone remembers Sara Lee used to have a banana cake, this is just like that, very very fattening though!
Ingredients:
1/2 cup butter, softened
1-1/2 cups sugar
2 eggs
1 cup (8 ounces) sour cream
1 teaspoon vanilla extract
2 cups all-purpose flour
1 teaspoon baking soda
1/4 teaspoon salt
2 medium ripe bananas, mashed (about 1 cup)
FROSTING:
1 package (8 ounces) cream cheese, softened
1/2 cup butter, softened
2 teaspoons vanilla extract
3-3/4 to 4 cups confectioners' sugar
Directions:
In a mixing bowl, cream butter and sugar. Add the eggs, sour cream and vanilla. Combine the flour, baking soda and salt; gradually add to the creamed mixture. Stir in bananas. Spread into a greased 15-in. x 10-in. x 1-in. baking pan. Bake at 350° for 20-25 minutes or until a toothpick inserted near the center comes out clean. Cool.
For frosting, in a mixing bowl, beat the cream cheese, butter and vanilla. Gradually beat in enough confectioners' sugar to achieve desired consistency. Frost bars. Store in the refrigerator. Yield: 3-4 dozen.