I'm a huge carb eater. I love carbs!!! Bread, pasta, rice, you name it, I'll eat it. It could be a good thing and a bad thing, but I try to limit our pasta meals to 3 a week. That being said, I've been craving Stouffers Vegetable Lasagna. I can only find family sized ones, in the stores here, and refuse to pay $11 for something I can make at home for way less. So I fiddled around and came up with this recipe. It tasted pretty close to Stouffers. Mr.B is 4.... shall I say more? He ate the noodles and left the cheese veggie mixture on his plate. At this point I'm over trying to make him eat dinner and he knows he can either eat what is on his plate, or wait until breakfast the next morning.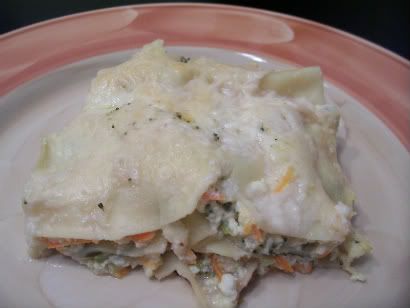 Vegetable Lasagna
9 no boil lasagna noodles
1- 8oz container part skim Ricotta
1/4 tsp garlic powder
1/4 tsp pepper
1/2 tsp salt
1 egg
1 1/2 C shredded mozzarella, divided
1 C chopped fresh broccoli
1 large carrot, peeled and grated
1 roasted red pepper, finely chopped
1/2 C chopped frozen spinach, thawed and drained
Sauce
2 Tbs butter
2 Tbs flour
2 C milk
1 C Parmesan
In a sauce pot, melt butter, until bubbling. Add in flour and stir to combine. Cook for 2 minutes. Gradually whisk in milk, ensuring there are no lumps. Bring to boil and simmer 5 mins, or until thickened. Whisk in Parmesan cheese and stir until well blended.
In a bowl, combine Ricotta, egg, salt, pepper, garlic powder and 1 C mozzarella cheese; until well blended. Add in vegetables. Coat the bottom of an 11X9 inch baking dish with a thin layer of sauce. Top with 3 noodles and half the veggie/ cheese mixture. Top with one more ladle full of sauce. Repeat with noodles, cheese and sauce. Top with final 3 noodles and press down slightly. Top with remaining sauce and 1/2 C mozzarella. Cover and bake in a 375 degree oven for 1 hr. Let cool 10 mins, before serving.
~~~~~~~~~~~~~~~~~~~~~~~~~~~~~~~~~~~~~~~~~~~~~~~~~~~~
In my quest of making carbs acceptable I fell in love with a recipe for Honey Oatmeal Bread, that Sandy ( one of the great girls on Baby Center) shared with us. I make this almost once a month, or when we are low on bread and I don't feel like going to the store. It's not a light chewy bread, but it makes great toast.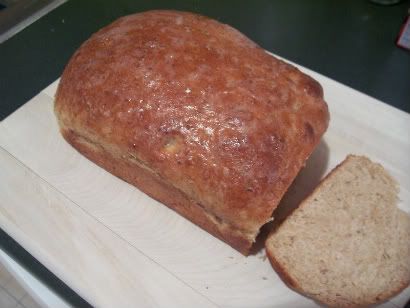 Honey Of An Oatmeal Bread
Sandy
Follow the amounts in the parentheses to make a larger loaf.
1 cup water (1 1/3 cups)
1 T vegetable oil (1 1/2 T)
1/4 cup honey (1/3 cup)
1 tsp salt (1 tsp)
1/2 cup rolled oats (3/4 cup)
2 1/3 cups bread flour (3 1/3 cups)(sub up to 1 cup whole wheat flour)
1/4 cup oat bran (optional)
1 tsp active dry yeast (1 1/2 tsp)
DIRECTIONS:
Place ingredients in bread machine pan in the order suggested by the manufacturer. Select Light Crust or Basic setting, and press Start.
Cindy's notes
: I do sub the 1 C wheat flour and use Oat Bran. I also bake it in the oven, so I use the dough cycle on our bread machine, place the dough into a greased loaf pan and let it rise for 30 mins. Then I bake at 350 degrees for 20 to 30 minutes. The top should be browned and the loaf should sound hollow when tapped.