This is a recipe that Lori, who's blog I follow, sent in. I made it last night for dinner, since I was in the Tex-Mex kind of mood. Plus Hubby was home, so I knew there wouldn't be many leftovers, LOL. I only used half the packet of Taco seasoning, since Mr.B and Queenie were both going to be eating it as well. It turned out wonderfully. The chicken was so tender, the sauce was spicy, creamy, but not hot. I shredded the chicken up, and served it with flour tortillas, cheese, lettuce, sour cream, refried beans and Franks hot sauce, for Hubby. Let's just say as a family we went through 9 taco sized tortillas, LOL. It was a hit, even with the Queen Bean!! Thanks Lori
So please keep those recipes coming!!!!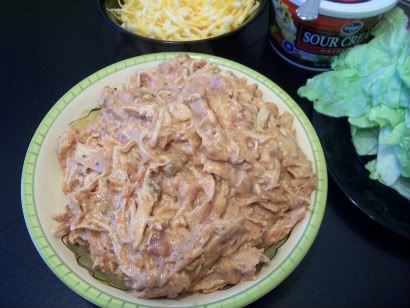 Crock pot Sour Cream Salsa Chicken
Lori-
My Kinda Rain
Ingredients:
4 skinless, boneless chicken breast halves
1 pkg. Reduced sodium taco seasoning mix
1 cup salsa
2 Tbsp. cornstarch
¼ cup light sour cream
Spray crock pot with cooking spray. Add chicken breast and sprinkle with Taco seasoning. Add salsa and cook on low for 6 hrs. when ready to serve remove chicken and mix cornstarch with a bit of cold water. Stir into the salsa sauce. Stir in sour cream and mix well. return chicken to crock pot and coat with sauce.