Yes I know, more desserts, LOL. What can I say... I'm addicted to sugar. As I mentioned in a previous post I'm previewing A Passion For Baking, by Marcy Goldman. I always have bananas lying around so I decided to try the
Java Streusel Banana Muffins
. I liked the recipe, because you could alter it to suit your taste. I am not a fan of coffee, so I omitted it in the streusel and batter. These were super moist and amazing. The streusel topping added a nice little sweetness to the whole thing. I made 12 muffins and 2 mini loaves.
Java Streusel Banana Muffins
Adapted from A passion for Baking by Marcy Goldman
This update of classic, moist breakfast or snack muffins features a coffee streusel swirl. You can omit the streusel for a classic banana muffin. This batter also bakes up nicely as a large banana loaf. If you forgo the streusel layer, you can add walnuts to the batter instead.

Java Streusel

4 Tbs unsalted butter
1/4 C firmly packed brown sugar
1/2 tsp instant coffee granules
1/4 tsp cinnamon
1/3 C chopped walnuts
1/3 C butterscotch or chocolate chips
Batter

3/4C unsalted butter, softened
1 C firmly packed brown sugar
1/2 C sugar
2 large eggs
2 tsp vanilla
2 1/2C flour
2 tsp baking powder
1/2 tsp baking soda
1/2 tsp salt
1/4 tsp cinnamon
1/2 C mild coffee or orange juice or buttermilk
1 C mashed very ripe bananas (about 2 large)
1/3 C semi sweet chocolate chips (optional)
1/2 C firm diced banana (optional)
Preheat oven to 375 degrees. Generously spray or line muffin tins. For streusel, place all ingredients in a food processor and pulse to make a coarse grainy mixture.
For batter, in a mixer bowl, cream butter and both sugars until well blended. Add eggs and vanilla, mix well. Fold in the flour, baking soda, baking powder, salt and cinnamon. While dry ingredients are blending into batter, add coffee and purred banana. Fold in chocolate chips and diced banana, if desired. Blend batter well, scraping bottom and sides of bowl to ensure batter is evenly mixed. Scoop batter into each muffin cup, filling to about half full, deposit some streusel and finish with batter. Alternatively, you can scoop the batter and top with streusel. Bake 30 to 40 minutes until muffins are gently browned around the edges and set set when touched. Cool well before removing from pan.
For a 9-X5-inch loaf: the loaf rises very high and looks as though it might overflow, but it doesn't. If loaf is browning too fast at 375 degrees, reduce oven to 325 degrees and increase baking time. The usual time is 60 to 65 minutes.
Authors Notes
: Like so many banana based recipes, you can vary this one in many ways. Ice with chocolate or lemon icing ( for cupcakes), use 1/2 C buttermilk or yogurt as the liquid, or garnish before baking with a coconut and macadamia nut streusel, instead of walnuts and butterscotch chips. The possibilities are endless.
Cindy's notes
: I omitted the instant coffee in the streusel. I also cut the brown sugar in the batter to 3/4 C. I used vanilla yogurt in place of the coffee, in the batter as well. I misread the directions and put the streusel on top, LOL.
~~~~~~~~~~~~~~~~~~~~~~~~~~~~~~~~~~~~~~~~~~
Well my girlfriends and I are always on the lookout for a reason to get together. So when one of them suggested a Red White and Food party, we were all for it. We then turned it into a wine and dessert party, LOL. I made
Cheesecake Topped Brownies
as my contribution. These were dangerously good, LOL. No one had to be asked twice, about bringing some home. The cheesecake was creamy and the brownies chewy. I didn't have brownie mix, so I used my go to brownie recipe ( I'll add it too).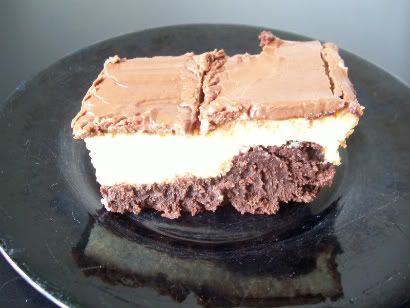 Cheesecake-Topped Brownies
Adapted from Cake Mix Magic Cookbook
1 (21 or 23.6 oz) package fudge brownie mix
1 (8oz) package cream cheese, softened
2 Tbs butter, softened
1 Tbs cornstarch
1 (14oz) can sweetened condensed milk
1 egg
2 tsp vanilla extract
Ready to spread frosting (optional)
Preheat oven to 350 degrees. Prepare brownie mix as package directs. Spread in a well greased 13x9 inch baking pan. Beat cream cheese, butter and cornstarch until fluffy. Beat in condensed milk, egg and vanilla until smooth. Pour cheesecake mixture over brownie batter. Bake 40-45 minutes or until top is lightly golden brown. Cool. Spread with frosting if desired. Store covered in refrigerator.
Fudgy Brownies
6 Tbs cocoa
1 stick butter
1 C sugar
1/2 tsp vanilla
1/4 tsp salt
1/3 C flour
2 eggs
1/2 C chopped nuts (optional)
Preheat oven to 325 degrees.In a medium saucepan, melt butter and stir un cocoa, until smooth. Let cool slightly and add in sugar, salt, vanilla and eggs. Mix well. Stir in flour and nuts. Spread into a greased 8x8 inch baking pan and bake for 35-40 minutes, until center is set.