Mr.B loves fish and I hardly make it often enough. I have a fish phobia. I love to eat it, but hate to cook it. It either is still raw, or very dry, LOL. I found this recipe on Cooks.com, the other day, when Mr.B requesed fish for dinner. It looked simple enough, so I tried it. It turned out really great. The fish was still moist, but cooked through. The potatoes were tender, the carrots still had a bite to them and the basil didn't taste gross with the fish ( as I thought it might). Mr.B isn't too fond of green beans, so I subbed in some peas. I also seasoned the fish with lemon pepper, before topping it with the veggies. This one is going in my 'to keep' file.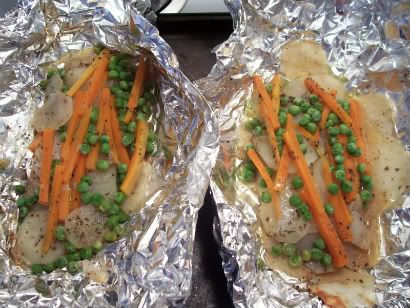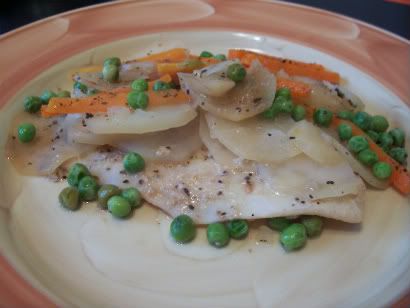 FOILED FLOUNDER AND VEGGIE BAKE
4 lg. flounder fillets
1 carrot, julienned
1/4 lb. fresh green beans or snow peas
1 med. onion, sliced
1-2 med. potatoes, peeled and sliced
3 tbsp. butter
2 tsp. basil
Salt and pepper to taste
Place each fish fillet on a 12 inch piece of aluminum foil. On each fillet place 1/4 of the vegetables. Dot with butter and sprinkle with seasonings. Fold up the edges of the foil and seal the packets. Place on cookie sheet and bake at 400 degrees for 10 to 15 minutes or until tender and flaky. Transfer to serving plate. This is also suitable for grilling.