I made this last night for dinner. I got a jelly sampler for Xmas, that contained Marmalade. I'm not a big fan of it, so I thought I'd use it up with chicken somehow. I browsed online for ideas and came up with a simple recipe. It smelled so good while cooking and tasted great. I had to refrain myself from having a second chicken breast. The chicken was so tender, sweet, sour and salty. Mr.B and Queenie gobbled their servings down too. I'm looking forward to lunch, I think I may turn the leftovers into chicken salad.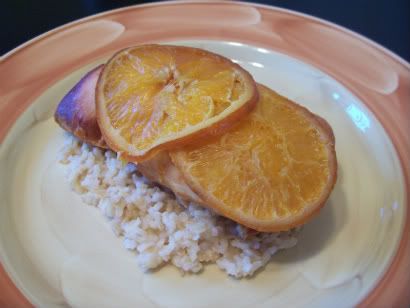 Orange Chicken
1/4 C orange marmalade
1/4 C orange juice
2 Tbs teriyaki sauce
1 tsp grainy mustard
pepper
4 boneless skinless chicken breasts
one orange sliced
Season chicken with pepper. Place in bottom of crock pot. Mix together marmalade, orange juice, teriyaki sauce and mustard. Pour over chicken breast and top with orange slices. Cook on low for 6 hrs. Serve with hot cooked white or brown rice.