This year is the first year I decided to make traditional Irish food, for St. Patty's day. My plan was to make corned beef and cabbage, but Hubby hates cabbage and wanted corned beef. So I cooked the corned beef in the oven, per manufacturer's instructions and made
Fried Cabbage
for my girlfriend and I. It was soooo delicious. The recipe I used is from Sandy, on Baby Center's cooking board. Her recipes are always a hit in this house, so I knew we'd love this one. I added some fried potatoes to it, once the cabbage was wilted. De-lish!!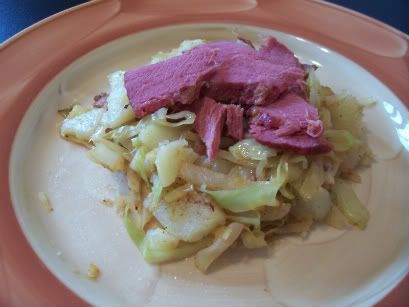 Fried Cabbage
Sandy
3 slices bacon, chopped
1/4 cup chopped onion
6 cups cabbage, cut into thin wedges
2 tablespoons water
1 pinch white sugar
salt and pepper to taste
1 tablespoon cider vinegar
Directions
1 Place bacon in a large, deep skillet. Cook over medium-high heat until evenly brown. Remove bacon, and set aside.
2 Cook onion in the hot bacon grease until tender. Add cabbage, and stir in water, sugar, salt, and pepper. Cook until cabbage wilts, about 15 minutes. Stir in bacon. Splash with vinegar before serving.