This was one of the Meal of the Week recipes on my cooking board. Again, I love simple recipes that use ingredients that I keep on hand. It was sort of a miss for us, though. I found it wasn't very flavorful, especially if you happened to take a bite of just pancake, without the apple or raisins. Maybe it's because I used Red Delicious apples, instead of Granny Smith. I think the batter would taste much better with a touch of vanilla and some sugar in it, LOL. I'm going to play around with this one, because I like the concept. Mr.B picked out the apples and raisins and left the pancake there, LOL. Queenie ate hers, but not with her usual gusto.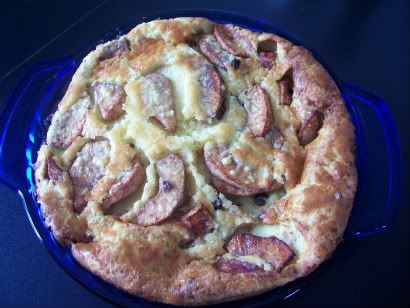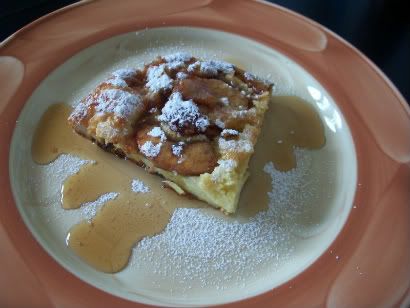 Apple-Raisin Oven Pancake
Amy –Gooseberry Patch
1 apple, cored, peeled and sliced
1/3 cup raisins
2 tbsp brown sugar
½ tsp cinnamon
4 eggs
2/3 cup milk
2/3 cup flour
2 tbsp butter, melted
Powdered Sugar
Toss together apple slices, raisins, brown sugar and cinnamon; spoon into a greased 9" pie plate. Bake at 350 for 10-15 minutes. Remove from oven; set aside. Whisk together eggs, milk, flour and butter; pour over apple mixture. Increase oven to 450; bake until golden, about 15 minutes. Pancake will puff up and will fall slightly when removed from oven. Sprinkle with powdered sugar; slice into wedges. Serve warm. Makes 8 servings.
Cindy's notes: The batter is very thin, like a popover batter, so don't think you've goofed the recipe, LOL. Next time I will add 1 tsp of vanilla and 1 Tbs of sugar to the batter.