Hubby working in the meat department, of our grocery store, is sometimes a bad thing. When meat goes on sale, he gets first pick, plus an extra discount. So the result, a freezer full of food. We have chickens, pork loins and tenderloins, that I have yet to cook, since Hubby has been working like crazy and is never home. I don't mind leftovers, but for 1 or 2 days.... not all week, LOL. Anyway, while browsing in the freezer, the other night, I decided to pull out some pork tenderloin. I had bacon in the fridge that needed to be used up, so I searched online for a bacon wrapped tenderloin recipe. I found one that sounded delicious and went to work. The smell of it cooking was intoxicating; the result amazing. The pork was so tender and juicy. I had some fresh pineapple sitting in the fridge, so I decided to make a warm relish, to serve with the tenderloin. I had seen Hubby make a similar relish, at the restaurant where we met, so took inspiration from him, LOL. I had never had onion and pineapple together, but the smell was great. The relish was sweet, with a slight tang from the onion. Mr.B and Queenie loved both and I'm looking forward to making a sandwich with the leftovers for lunch today.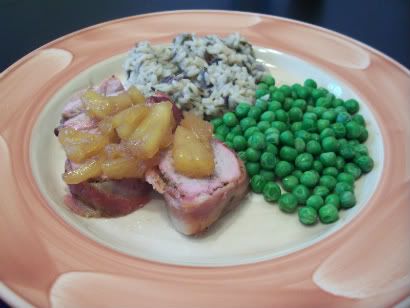 Bacon Wrapped Pork Tenderloin
from About.com
1 pork tenderloin, cleaned and trimmed
3 slices of bacon
1 tablespoon of garlic powder
1 teaspoon of Lawry's Seasoned Salt
1 teaspoon dried crumbled leaf basil
1/2 teaspoon dried crumbled leaf oregano
1 teaspoon black pepper
olive oil
Combine garlic powder, seasoned salt, basil, oregano, and black pepper; rub seasoning all over the pork tenderloin. Wrap pork with bacon and secure with toothpicks.Take your olive oil and coat well. Place in a 9x13 pan and bake uncovered in a 375 to 400 oven for 45 to 60 minutes, or until pork reaches about 155°. Make sure the bacon is really done. Remove and wrap in foil. Let stand for 10 minutes before slicing. This pork tenderloin recipe serves 2 to 4.
Warm Pineapple Relish
half a fresh pineapple, chopped or 1-15 oz can pineapple chunks
1 small onion, chopped
1 Tbs butter
1/3 C brown sugar
In a large skillet, over med heat, melt butter and add onion. Cook until onions are translucent. Add pineapple and any juice from the cutting board. Take a potato masher and smash the pineapple a bit, to release more juice. Add in brown sugar and mix until it has melted in with the pineapple and onion. Simmer until sauce thickens quite a bit, about 10 minutes. Take off heat and serve warn.