With the warm weather we've been having, I really didn't want to use the oven, or stove. So my trusty crock pot came to the rescue. Unfortunately it was also the end of my crock pot, since I dropped it in the sink, while washing it, after dinner :(. If I can find another stoneware insert that will fit, I'll be one happy Mama. Anyway..... I had/ have some pork loin in the freezer, so I took out a 2 lb piece and threw it in the crock to make BBQ pulled pork. I used the same recipe that I use for BBQ chicken and it was amazing. This is another
Cooking for your Family
find. I tried it 2 yrs ago and it's one of my favorites. Tender, sweet and tangy sauce coats the meat, for a scrumptious BBQ sandwich.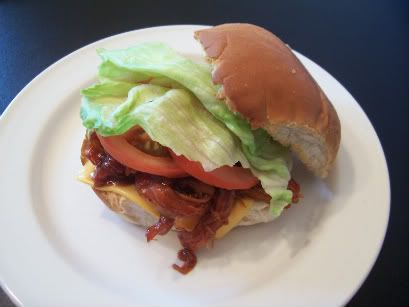 Slow-Cooker BBQ Chicken or Pork
Jackie
3-4 chicken breasts or 2 lb pork loin (can be frozen)
2 C ketchup
4 Tbsp brown sugar
1 Tbsp Worcestershire sauce
1 Tbsp soy sauce
1 Tbsp vinegar
1/2 tsp garlic powder
Mix all ingredients (except chicken) in crock-pot. Add the chicken, coating each piece in sauce. Cook on high 4 hours. Remove chicken and shred/pull with forks. Return to pot and stir in sauce to coat. Serve on buns with lettuce, tomato, cheese and onion.
**Leftovers can be frozen and re-heated for sandwiches, or used to make BBQ chicken pizza (put on a pizza crust, top with favorite cheeses, onions, etc.) or used to make BBQ chicken burritos (put on tortillas, add refried beans, cheeses, etc.)
Cindy's notes
: I like to add 1/4-1/2 C of our favorite BBQ sauce, to add smokiness.