Just reading the title to this recipe, I knew I had to try it. Unfortunately I was a little disappointed. It didn't really taste the way I thought it would. I really didn't like the toasted panko on the bottom, that seemed to make a bigger mess, than make the bread taste good, LOL. I was also not feeling so well and irritable, which could account for my less than stellar review. I'll have another slice for lunch, hoping that it tastes better today. The recipe looks really long, but is very easy. I never really baked bread until recently ( unless it was in my bread machine), so if I can do it, anyone can. I had to sub in some cheddar for the mozzarella, since I had less than I thought. I also omitted the salt on top of the bread, which was a mistake, because I think it needs that extra saltiness.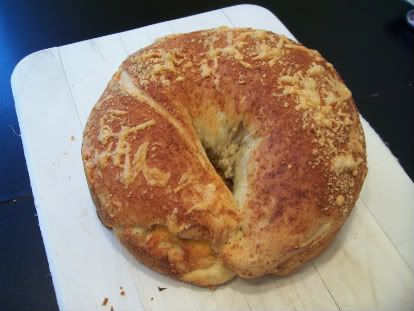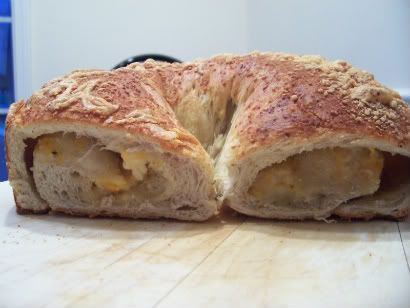 Caesar Salad Bread
from a passion for Baking
olive oil for pan
1/3 C panko or semolina
Dough
1 1/2 C warm water (100-110 degrees)
2 Tbs rapid rise yeast
4 tsp sugar
2 1/2 tsp salt
1 Tbs season salt
1 tsp dried Italian seasoning
1 tsp garlic powder
5-6 C bread flour
Filling
1/2 C mayonnaise
3 Tbs extra virgin olive oil
1 Tbs lemon juice
1 C Parmesan cheese
1 C mozzarella cheese
1 Tbs crushed garlic
2 Tbs fresh parsley
Finishing touches
1 egg
pinch each of salt and sugar
Parmesan and mozzarella cheese, garlic powder, salt, pepper, as required for dusting.
Olive oil for drizzling
Drizzle olive oil in a 10 inch spring form pan or round cake pan. Dust on panko. Hand whisk water and yeast in mixer bowl and let stand 2-3 minutes to let the yeast dissolve. Briskly whisk in oil, sugar, salt, seasoned salt, Italian seasonings, garlic powder and 3-4 C of flour. Mix, then knead with the dough hook on lowest speed of mixer 5-8 minutes, dusting in more flour as necessary to form a soft dough. Remove dough hook and spray dough with cooking spray. Cover mixer bowl with plastic wrap and let dough rise 1 hr.
For filling, in a bowl of a food processor, add mayonnaise, olive oil, lemon juice, cheeses, garlic, and parsley. Process 1-2 minutes. Set Aside.
Turn out dough onto a lightly floured surface and gently deflate. Pat or roll out into a large round about 1/2 an inch thick. Spread on filling and roll up snugly. Coil it up in prepared pan and pinch the ends together. Whisk egg, pinch of salt and sugar in a small bowl. Brush egg wash over dough; dust on cheeses, garlic powder , salt, pepper and drizzle with a touch more olive oil. Cover loosely with plastic wrap and let rise 1 hr.
Preheat oven to 375 degrees. Bake 20 minutes and then reduce oven temperature to 350 degrees. Continue baking another 20-30 minutes, until nicely browned and cheese is melted. Cool slightly before cutting into slices.
This post has been submitted to
Cookbook Sunday
, over at Brenda's Canadian Kitchen.