It was too nice to turn the oven on, yesterday, so I turned to my friend the crock pot. I found this recipe, which was perfect, since I had all the ingredients on hand. I'm really going crazy for these recipes that have tomato and white beans in them. The combination is just so delicious. The sweet tomato with the creamy beans.......YUM. Anyway this smelled so good, while it cooked all day. I was starving by dinner time. Mr.B and Queenie loved the dinner, so that is always a plus. I served it with Linguine which I had tossed with butter and Parmesan cheese.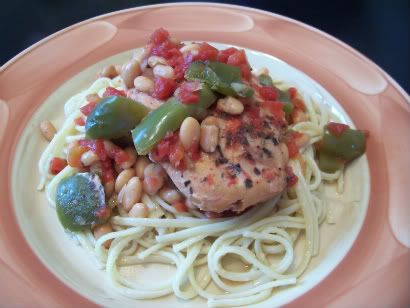 Chicken Dinner in a Crock-pot
4 skinless boneless chicken breasts
2 tsp. dried basil
1/8 tsp. salt and pepper
1 cup diced bell pepper
1 (16oz) can white beans, drained and rinsed
1 (14oz) can tomatoes, undrained
Place the chicken in a crock-pot: sprinkle with basil and salt and pepper. Add bell pepper, beans and tomatoes. Cover with the lid; cook on low setting for 8 hours.
Serving size is 1 chicken breast with 1 cup of tomato bean mixture
SERVINGS: 4
Cindy's notes
: I seasoned the chicken with basil and oregano and added about 1/2 a cup of chicken broth and 2 bay leaves to the crock pot.
~~~~~~~~~~~~~~~~~~~~~~~~~~~~~~~~~~~~~~~~~~~~~~~
Michelle, which I know from Baby Center's Cooking for your Family board, posted this recipe on the ingredient of the week thread ( the ingredient was cinnamon). I've been pretty bored with our, cereal, toast, waffles or pancakes rotation, so I gave these a whirl. As she states in her notes, these are more of a biscuit type bread, than a bun. They were light, fluffy and not too sweet. Queenie was over the moon for them and Mr.B had to be stopped from eating a 3rd, LOL. Very quick and easy to make, but impressive.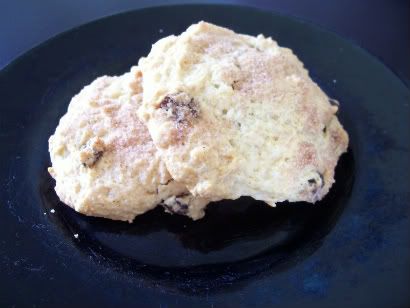 Breakfast Buns
Michelle

2 c flour
3/4 c sugar, divided
1 tbsp baking powder
3 tbsp cold butter
2 eggs
1/2 c milk
1 tsp vanilla extract
1 c raisins
1/2 tsp ground cinnamon

In a mixing bowl, combine four, 1/2 c sugar and baking powder. Cut in the butter until the mixture resembles coarse crumbs. beat eggs, milk and vanilla then stir into dry ingredients just until moistened. Don't over-stir. Add raisins. Drop by tablespoonfuls onto a greased baking sheet. Combine cinnamon and remaining sugar. Sprinkle over buns. Bake at 325 for 20-25 minutes or until light golden brown. Serve warm.

Michelle's notes: this makes a little over 2 dozenthey are more like a cinnamon raisin biscuit than a "bun"I like to add cinnamon to the dough