Hubby was off for Easter this year, so I was very happy about that. Working in the food industry, he seldom gets holidays off, unless the restaurant is closed. I had planned on ham, because I love ham. Since Hubby was home, I caved in and made a turkey. Now I'm usually pretty good a cooking turkey and chicken, but for some reason this year the turkey was done in 2 hrs. I'm suspecting they wrote the wrong weight on the tag, since an 8 lb turkey should have needed 2 1/2 to 3 hrs to cook. So I reduced the oven to 250 and left the turkey in there for another 30 mins, while I prepped and cooked the sides. I must have been having an off day, because I remembered about dinner rolls 1 hr before dinner was due to be done. So we skipped rolls this year ( I sure wasn't going to drive to the store for rolls). Our menu was: (dry) turkey, mashed potatoes, gravy,
Broccoli Corn Bake
and
Double Layer Lemon Pie
.
The broccoli casserole was delicious. It was sweet, creamy and reminded me of cream of broccoli soup. Hubby, Queenie and I loved it. Mr.B however, was appalled that I dare to mix his beloved broccoli with corn.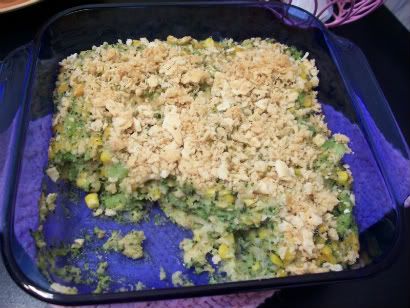 Broccoli Corn Bake
Michelle
1 can cream-style corn
3 cups cooked broccoli, drained
1 egg, beaten
½ tsp salt
¼ tsp black pepper
pinch cayenne pepper
1 Tbsp minced onion
1 c coarse saltine cracker crumbs
4 Tbsp butter, melted and divided
Preheat oven to 350. Mix the first seven ingredients together. Stir in ½ cup cracker crumbs and 2 Tbsp melted butter. Spoon into a 1 qt casserole dish. Combine remaining cracker crumbs and melted butter and sprinkle over casserole. Bake uncovered for 35-40 minutes. About 8 servings.
Cindy's notes
: I was too lazy to chop onion, so I used about 1/4 tsp onion powder.
The pie is one of our favorites. I made it for the first time, 3 yrs ago. Hubby thought he could improve it and make it lemonier, so once we were done the pie, he made his version. Let me tell you, it was heaven. I think we made 4 pies, back to back that year, LOL. Tart, creamy and smooth, a perfect spring dessert.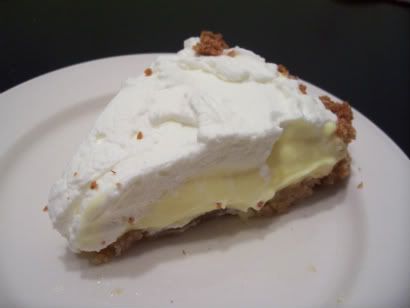 Double Layer Lemon Pie
1- 9 inch graham pie crust
2 eggs
1 C sugar
1/4 C lemon juice
1/8 C flour
1/4 tsp baking powder
zest of one lemon
1 small pkg lemon pudding mix
1 C milk
juice of 1 lemon
half a pint of whipping cream
4 Tbs powdered sugar
Preheat oven to 325 degrees. In a small bowl mix eggs, sugar, lemon juice, zest, flour and baking powder, until frothy. Pour into prepared graham crust and bake for 20-25 minutes, until set. Let cool completely.
Mix pudding mix, milk and juice of 1 lemon, until mixture is thick. Let sit 5 minutes. Meanwhile beat cream until soft peaks form, add in powdered sugar and beat to stiff peaks. Take 1 C of whipped cream and fold into lemon pudding mixture. Spoon into the cooled pie and top with remaining whipped cream.