I was recently asked if I'd like to become a group owner of the cooking board on Baby Center. I was surprised and honored that they asked me. The group keeps growing everyday and with our new team, we are keeping it running smoothly. If you are interested in checking us out,
click here
.
Christine, a fellow group owner, posted recipes for the MoTW. When I saw the pierogie recipe, I knew I would try it, since we love pierogies and ham. It is a simple meal to make, yet tastes wonderful. The creamy sauce has a smoky sweet flavor, due to the ham and onion. Mr.B loved his dinner, and I couldn't feed Queenie fast enough, LOL. We had the leftovers sauce today with some pasta.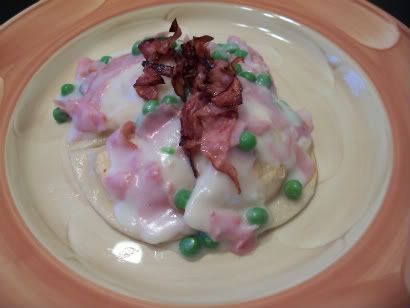 Perogies In Bechamel with Ham and Peas
Christine
5TB Butter
5TB Flour
.75 lb Ham Cubed (ham steak or deli meat)
1 heaping cup frozen peas (frozen is best)
1 small onion finely chopped
3 cups hot milk
1/2 tsp salt
1/4 tsp pepper
2 16 ounce boxes frozen Perogies (Mrs T's, 24 pieces) boiled in lightly salted water for 7 minutes
In a medium sauce pan, melt butter over medium heat, add onion and sautee until soft and translucent, add flour to mixture and sautee 2 minutes (this paste is called a roux, to thicken your sauce), add hot milk and whisk constantly until sauce begins to bubble. Remove from heat. Stir in salt, pepper, ham and peas. Keep sauce warm until perogies are finished. Plate perogies and pour sauce over top, serve.
Cindy's notes
: We like our pierogies crispy, so I sauteed them in butter, until lightly golden. I also fried up some extra ham, as a garnish.
~~~~~~~~~~~~~~~~~~~~~~~~~~~~~~~~~~~~~~~~~~~~~~~~
I saw a recipe for Chocolate Chip Strawberry Shortcake in a little coupon book from Krogers. We had tons of strawberries in the fridge so I gave it a try. The recipe called for chocolate chip muffin mix, and since I never buy the stuff, I made the recipe from the Bisquick box and added choco chips. These were crazy good. I mean how can you not like chocolate and strawberries??? I'll post the original recipe and the Bisquick recipe.
Chocolate Chip Strawberry Shortcake
no stick cooking spray
2 pkgs (7.4 oz) Chocolate chip muffin mix
2/3 C heavy cream
6 C sliced strawberries, sweetened to taste
whipped cream
Heat oven to 400. Spray baking sheet with cooking spray. Combine muffin mix with cream in a medium bowl. Stir with a fork until all ingredients are moistened and mixture forms a dough. Press into a ball. Pat into a 7 inch round on a lightly floured surface. Cut into 8 wedges. Place on baking sheet and bake for 12-15 minutes, until golden brown. Split shortcakes, fill with strawberries and whipped cream. Top with additional whipped cream and berries.
Strawberry Shortcakes
Bisquick
2 1/3 cups Original Bisquick® mix
1/2 cup milk
3 tablespoons sugar
3 tablespoons butter or margarine, melted
Sweetened sliced strawberries
Whipped topping or whipped cream
1.Heat oven to 425 degrees F. 2. Stir Bisquick mix, milk, sugar and butter until soft dough forms. Drop by 6 spoonfuls onto ungreased cookie sheet. 3. Bake 10 to 12 minutes or until golden brown. Split warm shortcakes; fill and top with strawberries and whipped topping. (Sweeten strawberries before making shortcakes so sugar has time to dissolve; for each quart of sliced strawberries, stir in 1/2 cup sugar.)